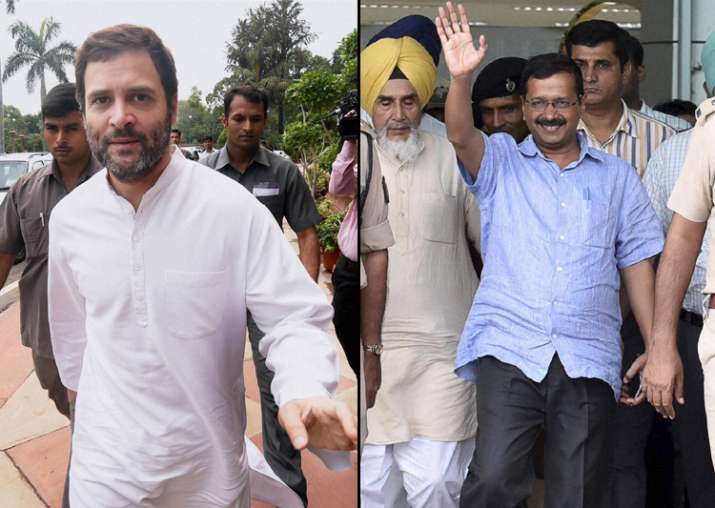 New Delhi: Congress vice president Rahul Gandhi and AAP National Convener Arvind Kejriwal will visit Gujarat in next few days to meet the members of the Dalit community in the wake of assaults on them after some members allegedly skinned a cow at Una last week. 
While the visit by Rahul is scheduled on Thursday, Kejriwal will go to the state on Friday. 
The decision by Kejriwal and Rahul to visit the state comes a day after Gujarat Chief Minister Anandiben Patel ordered a CID probe in the incidents, and also announced setting up of a special court for "speedy" trial. 
The incident at Una town in Gir-Somnath district, where Dalit youths were paraded and flogged for allegedly killing a cow, caused nation-wide outrage after its video went viral. 
The incident had come to light after a purported video showing some persons, believed to be 'gau-rakshaks', publicly beating four partially-stripped Dalit youths at Una town of Gir-Somnath district on July 11, had gone viral. 
The victims' contention was that they were skinning a dead cow and had not killed it. 
"Kejriwal will visit Una to meet the dalit victims on July 22," said a party official. 
This will be Kejriwal's second visit to the state this month. On July 9, he had visited Somnath temple. AAP has been trying to make inroads in the state, which saw Narendra Modi as the Chief Minister for over 12 years.
Apart from Rs 1 lakh compensation, Patel had also announced that the state government will bear all the medical expenses of the seven Dalit youths, who were injured in the incident and are undergoing treatment at various government hospitals in Una, Junagadh and Rajkot. 
Gujarat CM Anandiben Patel to visit Una today
Violent protests have erupted across Gujarat by the Dalit community against the assault on fellow community members. Chief Minister Anandiben Patel will visit Una town on Wednesday to meet the victims. 
"(The) Chief Minister will visit Una town tomorrow and meet the Dalit youths, who became victims of atrocities. She will also meet family members of these victims. She will be accompanied by Social Justice and Empowerment Minister Ramanlal Vora and Chief Secretary G R Aloria," an official release said yesterday. 
The Chief Minister condemned the incident and appealed the people to maintain peace. 
"It was indeed a despicable act, and no community can tolerate it. Local police was also at fault, as they did not acted swiftly. Apart from arresting the culprits, we have also suspended such policemen yesterday. State government will provide a compensation of Rs 4 lakhs to each of the victims," she said. 
"I have asked the authorities to take strict action to see that such incidents do not happen again. I appeal people to control their anger and emotions. I appeal youths to stay away from violence. I also request youths not to take any extreme step," the CM said. 
Earlier today, Congress state unit chief Bharatsinh Solanki and Leader of Opposition in Assembly Shankersinh Vaghela, met Governor O P Kohli and handed over a memorandum on the issue. 
"We informed the Governor the state machinery has completely failed in protecting Dalits. This was not the first incident, as such incidents are common under the BJP rule here. We want the entire probe to be done under a sitting high court judge," Solanki said after meeting the Governor.
(With PTI inputs)