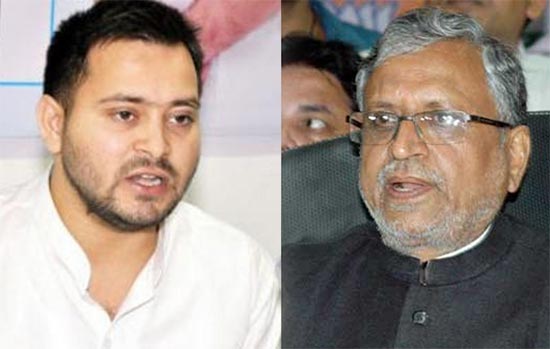 Bihar deputy chief minister Sushil Modi and RJD leader Tejashwi Yadav today indulged in a Twitter spat over the ongoing standoff between the Nitish Kumar govt and the Yadav family on the latter's security detail. 
Former Bihar Chief Minister Rabri Devi and her two sons, Tejashwi and Tej Pratap Yadav, today "returned" their state security cover, protesting withdrawal of guards from her Patna residence. 
Targetting the Yadav family, Sushil Modi today tweeted: Lalu family is playing the sympathy card and politicising the security detail issue to vent their frustration of being quizzed by CBI in the benami property and railway hotel tender case. Who can threaten the life of the family which has threatened to skin PM Modi alive and has an entire state scared?
The comment irked Tejashwi who accused the deputy CM of being threatened by the public support in favour of the Yadav family. 
Also read | Rabri Devi's big accusation against Nitish Kumar: 'Don't know if Laluji dying due to disease or being killed using medicines'
"You are acting strangely. You are deputy CM, Sir. If you think sympathy can be gained by going jail, then you should try it. You are levying accusations like opposition. If you have power then take action. Why are you hiding? Are you scared of the public support we are getting?," Tejashwi tweeted. 
आप विचित्र क़िस्म के प्राणी है। आप बिहार के उपमुख्यमंत्री है जनाब। जेल जाकर और सुरक्षा कटौती से सहानुभूति मिलती है तो चले जाओ जेल।

आप विपक्षी की तरह आरोप लगा रहे है।दम है तो करों ना कारवाई? क्यों बिल में दुबक रहे है? हमें मिल रहे जनसमर्थन से कलेजा फट रहा है क्या? https://t.co/npsoLvpnVv

— Tejashwi Yadav (@yadavtejashwi) April 11, 2018
The JDU-led government defended the move of withdrawing guards from Rabri Devi's residence by saying that they were provided to Lalu Prasad Yadav as he enjoys 'Z' security cover. And since Lalu was in jail in connection with fodder scam, the security detail has been withdrawn. 
"Just now at the stroke of midnight, Nitish Kumar has called back 18 house guards deployed in the security of the two ex-CMs. Surrendering our security to Nitish ji so that he can increase his own security as he is the most namby-pamby CM of the country," Tejashwi Yadav said in a tweet. 
"Returning the security (covers) provided to my mother Rabri Devi as ex-CM, to my brother as an MLA and to me as Leader of the Opposition. Hope Nitish Kumar gives up acting spitefully and concentrates on doing something constructive," he added.
 
Rabri Devi, in a letter to Chief Minister Nitish Kumar, said the recall of house guards has left the security of her residence and family in "tatters". 
"As soon as my husband went to jail on December 23, all the security personnel deployed in his security were withdrawn by the state government. Those who remained were part of the security cover provided to me and the residence allotted to me in the capacity of the former chief minister," she wrote. 
Rabri Devi said she did not see any point in retaining the security personnel as an "eyewash". 
"I am therefore returning herewith all security personnel and escort vehicles deployed at my residence. If anything untoward happens to me or my family members, the state Home Department and the minister in-charge of the same shall be responsible," she said. 
The Bihar CM has kept the Home portfolio with himself.
"The safety of myself and my family would be ensured by the workers of my party and the people of Bihar. Many congratulations to you and your government for taking such a step," the RJD national vice-president said in the letter.
 
Talking to reporters outside her residence today, Rabri Devi alleged a conspiracy to eliminate her and her family members. 
"The state government's action is a conspiracy to eliminate me and my family members, hatched at the behest of Nitish Kumar and his deputy Sushil Kumar Modi," she said. 
Meanwhile, a top police official said it is common to recall security personnel when the VIP, they are attached to, is physically absent. 
"Those security personnel were part of Prasad's security cover and there was no point in keeping them at 10, Circular Road," he said. 
JD(U) spokesman and MLC Sanjay Singh told reporters here that there is no provision of law under which a person serving sentence in a jail can be provided security cover by the state government. 
"The RJD leaders are trying to garner public sympathy by playing the victim card," Singh said. 
Strongly criticizing the move, RJD leader Shivanand Tiwary said, "I wonder whether Nitish Kumar has lost his sense of discretion. Only yesterday Bihar witnessed so much of violence by those opposed to reservation for Dalits and backwards. Leaders like Lalu and his family members face a heightened threat in such an environment."
(With inputs from PTI)
Watch full coverage of the news at  Aaj ki Baat: