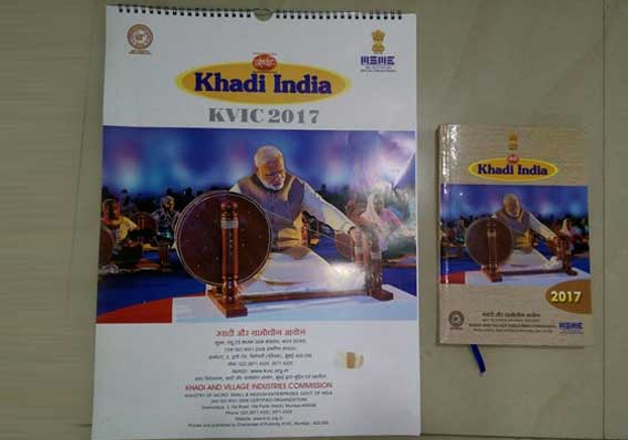 Mahatma Gandhi's great-grandson Tushar Gandhi today came down heavily on the government for replacing the Bapu's image with Prime Minister Narendra Modi on the calendar and diaries of the Khadi and Village Industries Commission (KVIC).
Expressing anguish, he said that the charkha on the KVIC calendar and diary was a photographic prop and was a planned strategy to gain credibility.
"First Bapu disappeared from few Rs 2/-K notes now he disappears from KVIC office and calendar. Replaced by 10 Lakh ka suit loving PM," he said in a tweet.
"Replacing Bapu's photo from KVIC Calendar and diary with million rupee ka suit loving PM's is a tongue in cheek taunt by ministry," his another tweet reads.
'तेरा चरख़ा ले गया चोर,
सूनले बापु ये पैग़ाम, मेरी चीट्ठी तेरे नाम....'

— Tushar (@TusharG) January 12, 2017
A major controversy erupted yesterday when PM Modi spinning the "charkha" in the classic pose of Mahatma Gandhi appeared on the 2017 calendar and diaries of the KVIC. The commission's calendars have always featured Mahatma Gandhi, who founded the Khadi movement in the 1920s, aiming to boycott foreign goods in a non-violent protest against the British.
Meanwhile, sources said that the Prime Minister's Office (PMO) has termed the entire controversy 'unnecessary' and 'baseless'. 
The PMO has argued that in past there were many occasions when Mahatma Gandhi's photographs were not published on calendar and diaries of the KVIC. In 1996, 2002, 2005, 2011, 2012 and 2013, photographs of Gandhiji were not published, hence there is no question of replacing Mahtama Gandhi with PM Modi.
"People who are fuelling this, should first understand that in Congress' 50-year rule, the sale of Khadi was between 2 per cent to 7 per cent, whereas in last two years, there has been significant rise in sale of Khadi products," the source said. 
The sale of Khadi has increased to 34 per cent, they said, adding that PM Modi had played crucial role in promoting Khadi.
Also, there is no specific rule that makes it mandatory to print Gandhiji's photos on calendar and diaries of the KVIC, they said.
"Modiji is icon of youth today and the acceptance of Khadi among youth certifies this. The photo of PM Modi on calendar and diary of KVIC was from an event where Modiji distributed 'chaarkha' to needy people. Saying that PM Modi has replaced Gandhiji is completely wrong," the sources said.
Earlier this morning, Union Minister for Micro Small and Medium Enterprises (MSMEs) Kalraj Mishra also defended of government's decision to print PM Modi's photos on calendar and dairies of the KVIC.
Speaking to reporters, the Minister said that 'there was no question of Mahatma Gandhi as the entire Khadi industry was based on his philosophy'.
He said that no one can replace the 'Father of Nation' from anyone'.
"I have read news, can only comment after getting details. We respect Mahatma Gandhi a lot. There is no question of replacing him, no one can take his position," he said.
KVIC Chairman Vinai Kumar Saxena said that this was 'not unusual' and there have been deviations in the past.
"Gandhiji is the soul of KVIC, so there is no question of ignoring him," Saxena said.
He added that Prime Minister Modi has been wearing khadi for a long time, and has made it popular among the masses; even among foreign dignitaries, while developing his own styles around khadi.
"In fact, he is khadi's biggest brand ambassador, and his vision matches KVIC's, of 'Make In India' by making villages self-sufficient, 'skill development' by generating employment among the rural masses, infuse modern technology for khadi weaving, innovations and marketing. Plus, the PM is a youth icon," Saxena explained.