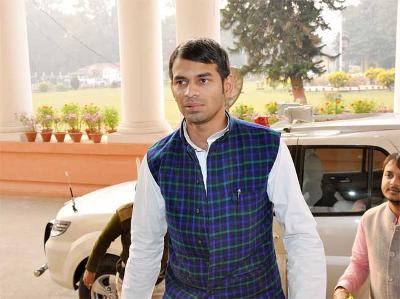 Rashtriya Janata Dal (RJD) supremo Lalu Prasad Yadav's elder son Tej Pratap Yadav is likely to face trouble as the newly formed JD(U)-NDA government, led by Nitish Kumar, has initiated an inquiry into the Rs 90 lakh soil scam. 
It has been alleged that Tej Pratap, who held the health, environment and forestry and minor irrigation departments in the grand alliance government, misused his position and sold the soil excavated from two acres of land on which a mall belonging to Lalu and his family was being built, to  the Sanjay Gandhi Biological Park in Patna for Rs 90 lakh in violation of rules. 
The allegations were made by former leader of opposition and now deputy CM, Sushil Kumar Modi, who had then demanded that Chief Minister Nitish Kumar sack Tej Pratap for his alleged involvement in what her termed as the "soil purchase scam". 
He had alleged that the soil used for construction of basement of an upcoming mall near Saguna Mor was purchased by Patna zoo for Rs 90 lakh without inviting any tender. 
Modi had claimed that the two-acre land of the mall belonged to Delight Marketing Company Ltd (now Lara Projects LLP). Lalu's sons — Tejashwi Prasad Yadav and Tej Pratap — were in the board of directors of the firm.
Assuming charge as the Finance Minister on Monday, Sushil Modi said that apart from the soil scam, his government was also going to review other possible irregularities that took place in the Mahagathbandhan government by Lalu Yadav and his minister sons. 
"Soil scam is a very small thing involving Rs 40-50 lakh. Through soil scam we found that Lalu was owner of benami properties worth Rs 1000 crore and above. We are reviewing the files relating to soil scam," he said.