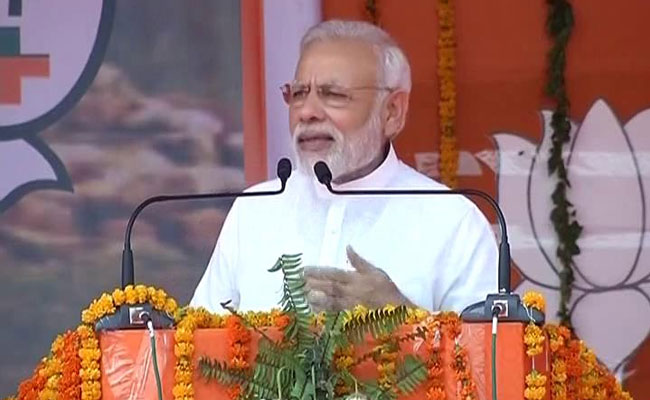 Prime Minister Narendra Modi today took down Uttar Pradesh's ruling Samajwadi Party and Mayawati-led Bahujan Samaj Party with a single shot as he alleged that both parties are "friends from behind the doors" and called upon people of the state to break out of the "SP-BSP stranglehold".
Sounding the poll bugle for Uttar Pradesh at a Bharatiya Janata Party (BJP) rally at Mahoba, Uttar Pradesh, PM Modi said the twin parties during their regimes have destroyed the state.
"Uttar Pradesh has seen a lot of politics, has witnessed all types of games. Those who wanted to indulge in playing games, they have done that, those who wanted to gain, have gained," he said.
"Sometimes SP, other times BSP, their world continued but your world remained unchanged. If you want to transform Uttar Pradesh to 'Uttam Pradesh' in the coming 10 years, then come out of this SP-BSP circle," said Modi.
Attacking the SP and the BSP which have been in power in the state alternatively, Modi said the parties target each other publicly but were friends behind the curtains.
"The BSP is attacking the SP for corruption but when the BSP was in power, did they act against the SP, did they send their people to jail, did the BSP do any welfare work? No. Same is for the SP. They will never act against each other," Modi said.
"I will plunder during my regime and you plunder during yours. When I am in power, I will not act against you, and you do the same when you are in power. This is the motto of the SP and the BSP. This is the game they have been playing," alleged Modi.
"Enough is enough, if you want to change the fortunes of the state, then get out of this SP-BSP circle. This is the moment to get rid of the SP-BSP stranglehold, this is a moment to get Uttar Pradesh free from the SP and the BSP," he added.