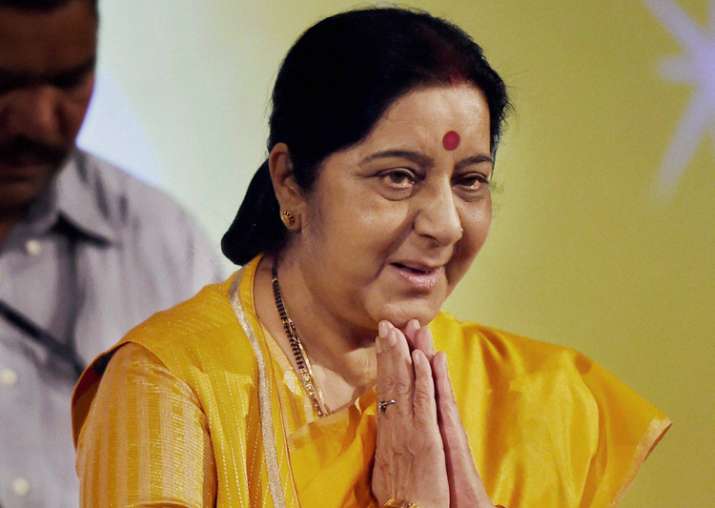 Upping the ante in 'Dalit vs Dalit' fight for the President of India's post, External Affairs Minister Sushma Swaraj today tweeted an old video of her speech to target former Lok Sabha speaker and the Opposition parties nominee Meira Kumar. 
Swaraj claimed that Meira had interrupted her 60 times in a six-minute long speech on the floor of the Lok Sabha when she was speaking as the Leader of Opposition. 
"This is how Lok Sabha Speaker Meira Kumar treated Leader of the Opposition," Swaraj tweeted, along with an April 2013 video of the Lok Sabha proceedings during the Budget Session.
Speaker interrupted Sushma 60 times in 6-min speech http://t.co/am8tiCJ4Iu via @https://twitter.com/TheDailyPioneer https://t.co/hxHWHaJ4D9

— Sushma Swaraj (@SushmaSwaraj) May 6, 2013
In the six-minute video, Sushma Swaraj is seen berating the Congress-led United Progressive Alliance government, pointing to a number of alleged scams. Four minutes into the video, then Speaker Meira is seen repeatedly saying 'alright', 'thank you', 'okay', 'I have to proceed', hinting then Leader of Opposition Sushma Swaraj to conclude her speech.
At the end of the video, the Bharatiya Janata Party members led by Sushma Swaraj are seen walking out of the House.
The External Affairs Minister also attached a link of a news report of the Pioneer newspaper dated May 3, 2013, which said that Sushma Swaraj was 'interrupted' by the Speaker for 'at least 60 times during the next 120 seconds of Swaraj's speech'.
Meira Kumar has been named the opposition's presidential candidate to take on National Democratic Alliance's candidate Ram Nath Kovind. The presidential election will be held on July 17. Results will be declared on July 20. The tenure of incumbent President Pranab Mukherjee ends on July 24.