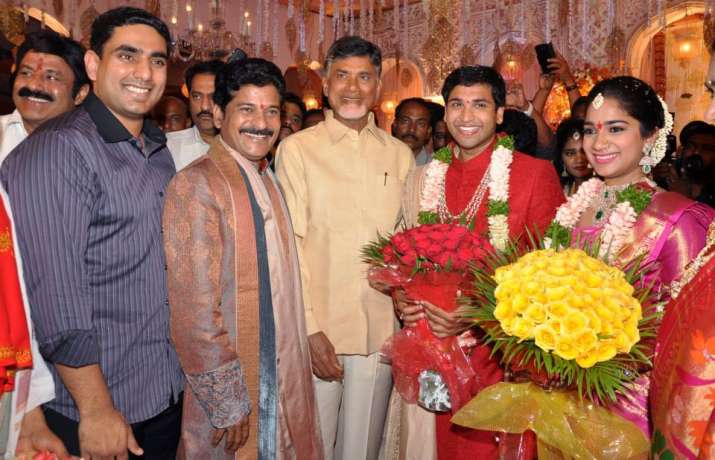 The extravagant wedding of Karnataka mining baron and former BJP minister Janardhan Reddy's daughter, which is estimated to have cost about Rs 500 crore, has raised a firestorm of controversies. 
The grand event was attended by over 50,000 guests, which included Karnataka Governor Vajubhai Vala, state Home Minister G Parameshwara, Energy Minister D K Shivakumar, Rural Development Minister H K Patil and former Chief Minister B S Yeddyurappa. 
However, top BJP leaders who were considered close to Reddy before his arrest in the illegal mining cases in 2012, stayed away.
The profligate wedding, at a time when people across the country are reeling under cash crunch after demonetisation of high-value currencies, has come in for a lot of criticism. 
National Committee for Protection of Natural Resources (NCPNR) founder president SR Hiremath, who has filed cases in the Supreme Court against illegal mining in Ballari, wants the Central Bureau of Investigation (CBI), Enforcement Directorate, Central Vigilance Commission, and a special investigation team appointed by the Supreme Court to raid Reddy's house and ask for the source of funds behind this extravagant wedding. 
Meanwhile, the Income Tax officials are all set to question the former BJP minister. Sources in the I-T department have already studied the cost incurred, and further investigations would be carried out, says a report in The Indian Express. 
Palace grounds that plays host to grand weddings presented almost a surreal picture as Bramhani entered into wedlock with Rajeev Reddy, a leading businessman's son from Andhra Pradesh, with rituals conducted by a battery of priests from the famous Tirumala temple.
The grandeur of the wedding was such that huge sets replicating Vijaya Vitthala temple of Hampi, the seat of the glorious erstwhile Vijayanagara empire, and Tirumala Tirupati temple were erected at the venue, along with the replica of the homes of both of bride and the groom. Pre-wedding events have been on with equal extravagance at the venue for the past five days.
Artistes and dancers from different parts of the country, including Samba dancers from Brazil, were part of one such bash last night.
The first glimpse of the ostentatious wedding came with the invitation box with a LCD screen playing a video, where Reddy and family were seen inviting guests, lip syncing to a song. Thousands of people attended the event today and were given saplings along with sweets as a return gift.
It is said about 50,000 people had been invited for the wedding and people were also ferried from Reddy's bastion, mine-rich Ballari. Reddy and family dressed up as "royals" in gold and diamond had left no stone unturned for the wedding.
Most utensils for the wedding rituals were either gold or silver and entire venue was equipped with air conditioners. While overflowing fountains added to the glitter, orchids and other ornamental flowers were arranged fancily.
The who's who of the Kannada and Telugu film industry attended the wedding ceremony and wished the newly wed. Karnataka Governor Vajubhai Vala, Home Minister G  Parameshwara, Energy Minister D K Shiva Kumar, Transport  Minister Ramalinga Reddy, BJP state President B S Yeddyurappa  were among prominent leaders who attended.
Even as there were reports that BJP leaders would stay away from the wedding that has come at a time when Prime Minister Narendra Modi has announced "war" on black money, there was a lineup of leaders of the party at the event.
Equally surprising was the attendance of senior Congress ministers. Congress had waged a political war against Reddy and his brothers by staging a padayatra till Ballari. They had  alleged that he had created "republic of Ballari" and the then BJP government had no authority there.
Reddy, who had served as a minister in the BJP government, is out on bail after serving three years term in an illegal mining case.