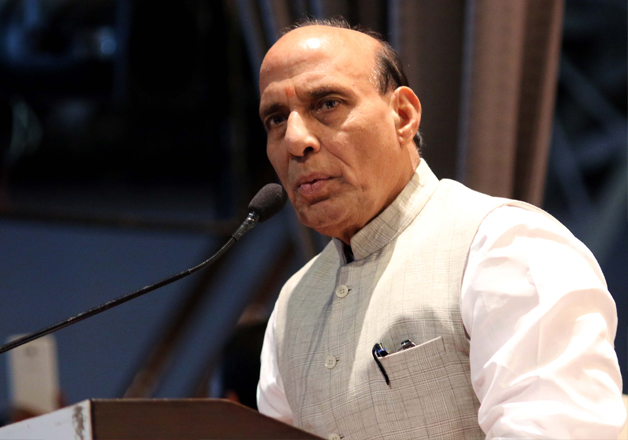 Launching a blistering attack on Pakistan, Union Home Minister today said that the neighbouring country was indulging in a proxy war and has been trying to harm India by taking 'cowardly' aid of terrorism.
Speaking at the 55th raising day event of border guarding force Indo-Tibetan Border Police (ITBP) at its camp here, he said that terrorism is a weapon of cowards and not of brave. 
"The neighbouring country has been carrying out proxy war. But terrorism is not a weapon of the brave but of cowards. Those who fight from behind are called cowards...they take the help of terrorism," he said.
Referring to the current tensions between the two countries, he said the neighbour has been trying to harm India and was attempting to break and "destabilise" it by resorting to terrorism.
Singh said an "evil eye" is being cast on India to thwart its progress as it is marching on as one of the fastest growing economies of the world.
Situation along the Indo-Pak border continues to remain tense after terrorists attacked an Army camp in Uri killing 19 soldiers on September 17.
In a retaliatory action, Indian Army carried out surgical strikes on terror launch pads in PoK on September 27. Firing by both Indian and Pakistani forces towards each other's positions have been continuing leading to several deaths on both sides.
Singh had earlier instructed border guarding forces not to fire towards the enemy first, but not to count bullets if they are fired upon.
Later, while taking questions on the ceasefire violations by Pakistan, he said, "Our soldiers are responding to them befittingly."
To a question on the espionage case involving a diplomat of the Pakistani High Commission in India, he said the government is taking necessary action.
With PTI Inputs