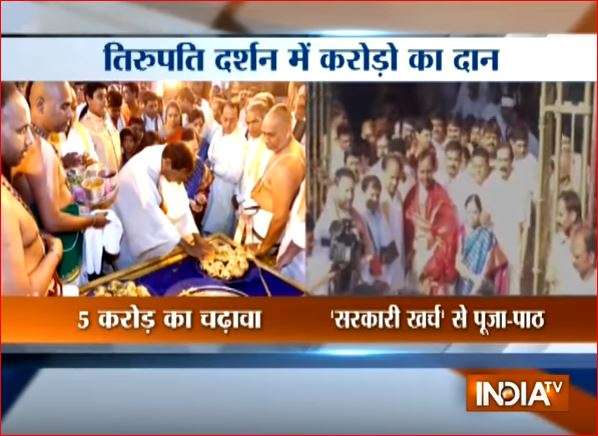 Telengana Chief Minister K Chandrasekhar Rao today offered gold ornaments worth around Rs 5 crore to Lord Venkateswara at Tirumala temple. 
KCR made the offering as 'thanksgiving' to the  deity for fulfilling his dream of a separate Telangana state.  
The Telangana Chief Minister  handed over a golden garland studded with fossilised shells called "Shaligram Haram" and a multi-layer gold necklace called "Makhara Kantabharanam," totally weighing about 19 kg and worth about Rs 5 crore to the temple Executive Officer, D Sambasiva Rao. 
"I came to the shrine to offer prayers and make the offerings as well to Lord Venkateswara as a fulfilment of his vow," KCR told media persons.
It is believed to be the biggest offering ever made by a state government to the 2,000-year-old hill shrine after India's Independence. 
KCR was later honoured with sacred silk cloth and prasadam while the high priests, amid chanting vedic hymns, bestowed blessings on him.
Meanwhile, the main opposition Congress and the BJP have criticised Chief Minister K Chandrasekhar Rao for using public money to fulfil his "personal vows" made to Tirupati temple in Andhra Pradesh. 
"It's not correct for KCR to use public money for his personal vows to god. Government should make public what transparency was maintained in the making of ornaments offered to Lord Venkateswara (at Tirupati). To whom this contract was given, it should be made public," Congress leader and former minister M Sasidhar Reddy told reporters here. 
Telangana BJP spokesperson Krishna Saagar Rao alleged that Rao "possibly is the only CM in the entire country today who spends public money so brazenly for personal reasons." 
"BJP doesn't have any objection to one's religious beliefs and personal vows to god. However, these vows have to be fulfilled in individual capacity and not by using public money. Those in power should have basic competence to draw a line between personal and public spending," Rao said in a statement.