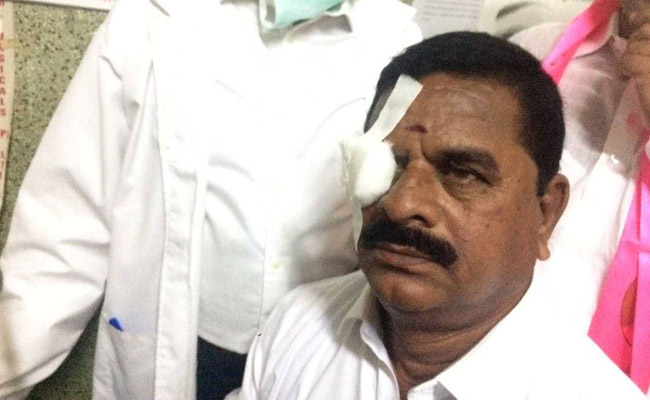 Telangana Assembly witnessed an ugly brawl on the first day of Budget Session on Monday. Congress leaders, who were protesting against farmer and unemployment issues, threw papers and microphones in the air during Governor ESL Narasimhan's speech. One of the microphones hit Legislative Council chairman Swami Goud, who suffered injuries and had to be rushed to the hospital. 
According to reports, the microphone hit Goud near the eye. The leader has been admitted to Sarojini Devi Eye Hospital.
Telangana IT and Municipal Minister KT Rama Rao lashed out at the Congress Party for disrupting Governor's speech and termed the act as "cheap and cultureless".
"The sense of democracy is to discuss, debate and descent, but unfortunately out of frustration, the Congress is indulging in cheap tactics. And what they have done in today's Assembly was cheap and cultureless," Rao told ANI.
"My request to the Congress Party members are they should learn to behave and give the right message across. What they have done today is utterly shameful for themselves and democracy. If they behave in such a way then the people will give a befitting reply soon," Rao added.
Congress leader Komatireddy Venkat Reddy, who has been accused of throwing the microphone which hit the Goud, said, "It is our right to protest and raise slogans in the assembly. I have been an MLA for the last 20 years but have never seen such a condition where the MLAs are not allowed to protest".
Komatireddy alleged, "The governor was making false statements in the assembly and therefore we had to raise our voice by holding placards. It is correct that we threw papers but as far as I believe papers wouldn't hurt a person so much. I didn't beat anyone with headphones and it is just a drama arranged by Harish Rao to get us suspended".
He added that it was very unfair that there were 50 policemen who came to stop them from protesting and were pushing them. "My leg got a mild fracture as a result of this, but I can't blame anyone for this incident. The main intention of the opposition party is to suspend us and that is the reason they are showing all these"
Deputy Speaker M Padma Devender Reddy, after visiting Swami Goud in hospital, said, "It was an unexpected thing, what happened in the assembly. I just checked the condition of Swamy Goud. His right eye is completely swollen and the dressing has been done to his eye. Doctors asked to admit him to the hospital for observation of his condition. We haven't filed any complaint against this".