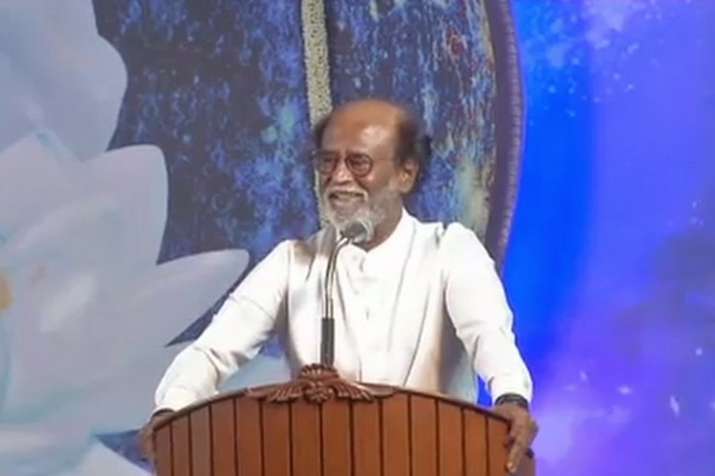 Ending suspense, Tamil superstar Rajinikanth today announced his entry into politics and said he will launch his own party. 
"I am joining politics for sure," the 67-year-old said amid thunderous applause from fans. 
Quoting a shloka from the Bhagwad Gita which stresses on the importance of doing one's duty and leaving the rest to the Lord, he said, "This is the compulsion of time." 
Addressing fans here on the valedictory of a six-day-long meet, the actor said he will launch a political party which will contest all 234 assembly constituencies in Tamil Nadu. 
He said the party will be launched ahead of assembly elections at an appropriate time. 
The policies of the party will be taken to the people, he said and added that truthfulness, hard work and growth will be the slogan of his party. 
"Do good, speak and only good will happen," will be the guiding slogan, he said.
It is believed that Rajinikanth will extend his support to the Bharatiya Janata Party and would launch his outfit during Pongal with the party's support. 
Here are the highlights of the announcement made by Rajinikanth: 
09:33 am: He only announced he is entering politics, had no details or documents, he is illiterate. Its only media hype, people of Tamil Nadu are intelligent: Subramanian Swamy on Rajinikanth
09:25 am: 
Chennai: Fans celebrate after #Rajinikanth announces political entry pic.twitter.com/K1Vul6UFCZ

— ANI (@ANI) December 31, 2017
09:20 am: Truth ,work and growth will be the three mantras of our party: Rajinikanth
09:14 am: In the name of democracy politicians are robbing us of our own money on our own land. We need to bring a change from the base, says Rajinikanth
09:13 am: Will contest next assembly polls by fielding candidates in all 234 assembly seats: Rajinikanth
09:08 am:
Democracy is in bad shape right now, all other states have been making fun of us(Tamil Nadu), I will feel guilty if I don't take this decision now: #Rajinikanth pic.twitter.com/E4d5Kc9hw7

— ANI (@ANI) December 31, 2017
09:07 am: In next assembly elections I will form a party and will contest all constituencies in Tamil Nadu
09:06 am: My political entry is definite, says Rajinikanth
09:00 am: 
Chennai: #Rajinikanth arrives at Sri Raghavendra Kalyana Mandapam, expected to make a major announcement shortly pic.twitter.com/DbwDQEUoaq

— ANI (@ANI) December 31, 2017