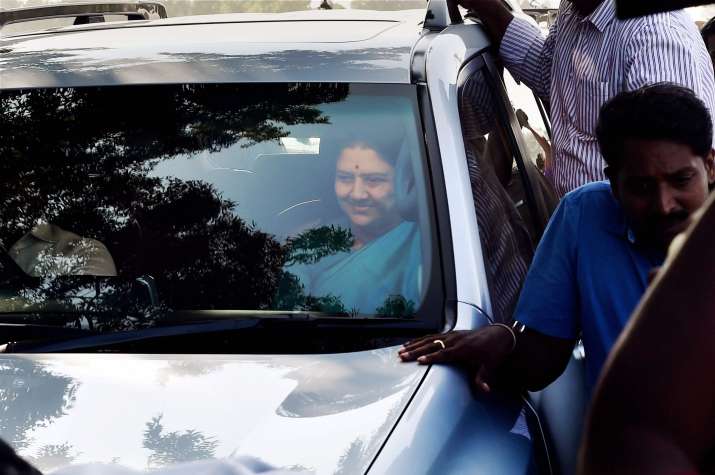 The verdict in the disproportionate assets case, involving VK as an Sasikala accused, is unlikely to be pronounced on Monday, further delaying the swearing-in of AIADMK General Secretary as the Chief Minister of Tamil Nadu. 
Sasikala staked claimed to form the government on Thursday when she met Governor C Vidyasagar Rao. The impending verdict is seen as the reason why the Governor has shown little interest in swearing-in Sasikala as the third woman Chief Minister of the southern state as an unfavourable verdict would force her to resign from the post. 
Sasikala, who seems to be getting impatient with each passing day as AIADMK leaders keep switching over to O Panneerselvam camp, has alleged that the delay in her being sworn-in as Chief Minister of Tamil Nadu is mainly to break the party.
According to a report by the Times of India, the Supreme Court cause list - which catalogues the court's business for the day — does not mention the case for Monday. 
The top court reserved the verdict last year and indicated on February 6 that the order could be delivered in a week.
The court is hearing the Karnataka government's plea challenging the high court acquittal of 61-year-old Sasikala and three others in the Rs 63-crore disproportionate assets case.
Though late Tamil Nadu chief minister J Jayalaithaa was the main accused, but after her death on December 5, the case against her stands abated.
Meanwhile, an MLA and four MPs of AIADMK switched sides yesterday and extended their support to Panneerselvam, prompting  Sasikala to threaten with a protest. 
Sasikala met the legislators supporting her at a retreat near Chennai and said that the delay by the Governor in inviting her to form the government appeared to "facilitate split in our party." 
Earlier on Saturday she wrote to the Governor, asking him to take steps immediately to swear her in at the earliest. She said she was ready to parade the party MLAs supporting her before him. 
Her outburst came as MLA and School Education Minister K Pandiarajan and four MPs -- P R Sundaram, K Ashok Kumar, V Sathyabama and Vanaroja -- switched over to the Chief Minister's camp, pledging their support to him amid mounting pressure from the party cadres and apparent public sentiment. 
Party veteran C Ponnaiyan, party spokesman and minister in the MGR Cabinet, also drove to Panneerselvam's residence and offered his support. 
After these switchovers, Panneerselvam camp now has seven MLAs, including him. In the 235-member Tamil Nadu Assembly, AIADMK has 135 MLAs. 
A former minister M M Rajendra Prasad also joined the Chief Minister's camp. 
Sundaram and Ashok Kumar, Lok Sabha members from Namakkal and Krishnagiri, respectively extended their support to Panneerselvam, who has raised a banner of revolt against Sasikala. 
Later in the evening, Sathyabama and Vanaroja, representing Tiruppur and Tiruvannamalai constituencies in the Lok Sabha, also came out in support of Panneerselvam, saying he enjoys the support of the people. 
Rajya Sabha MP V Maitreyan has already extended support to Panneerselvam. 
Sathyabama, in a veiled attack on Sasikala, said, "A priest, though venerable, cannot become God, and similarly nobody can become Amma." 
She accused Sasikala of favouring those who were "rejected" by late Jayalalithaa. 
"Today, those were rejected by Amma are holding big positions there (Sasikala group)," Satyabama said, flanked by Panneerselvam and other leaders of his faction. 
She said Panneerselvam would "continue in office" and fulfil all the schemes that were envisioned by Amma for the people. 
"People's support is there. I was flooded with phone calls from voters of my constituency to take a good decision," she said. 
People consider only late Jayalalithaa as "Amma," she said and added that it will be Panneerselvam who will be able to take forward her work. 
She also voiced Pannerselvam's choice phrase of "dharma will triumph." 
Attacking Sasikala, Maitreyan said attempts were being made to create law and order problems in Tamil Nadu and urged the Union Home Minister to take steps to ensure peace. 
Ponnaiyan, who switched over from Sasikala camp, told the cadres, "The leadership of the party and government should be in good hands and that is Panneerselvam who was trusted thrice by Jayalalithaa to be Chief Minister. All of us should work towards this goal." 
Rattled by the desertions, Sasikala, who has been elected the Leader of the AIADMK Legislature Party on February 5, drove to the luxury resort, 100 km from here, in an attempt to prevent the MLAs who have been put up there for the last three days from switching sides. 
K A Sengottaiyan, who was appointed the presidium chairman after the removal of Madhusudhanan, told reporters after Sasikala's meeting with the MLAs that all of them have taken a pledge that they will back her to the hilt till she becomes Chief Minister. 
As the Governor remained indecisive even 48 hours after she staked claim to form the government, Sasikala tonight said, "We waited till today. Tomorrow, we will protest in another form." 
However, she did not elaborate what she meant by protesting in "another form." 
Reports said, citing sources, that she may lead a hunger strike by her legislators at Jayalalaithaa's memorial at Marin Beach in Chennai on Sunday if the Governor doesn't invite her to form the government.