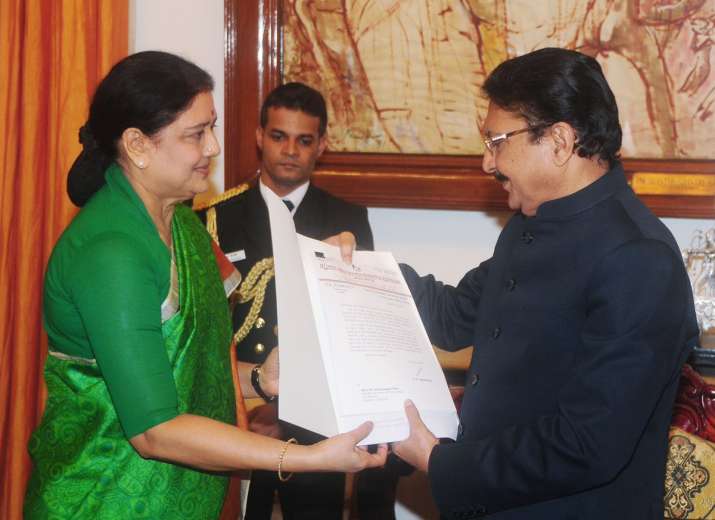 AIADMK General Secretary VK Sasikala today staked claim to form the government in Tamil Nadu during a 40-minute meeting with Governor Ch Vidyasagar Rao who had so far kept away from Chennai and arrived in the capital today afternoon. 
Couple of hours after caretaker Chief Minister O Panneerselvam visited Rao, Sasikala called on the Governor and gave him a letter presumably containing the names of MLAs who elected her as AIADMK Legislature Party Leader, and requested him to invite her to form the government. 
However, the Governor's response is not immediately known. 
Sasikala arrived at 7.25 pm at the Raj Bhavan and left after a meeting that lasted about 40 minutes. 
Also Read: 'Sasikala betrayed Amma, playing dirty tricks to acquire CM post,' says Panneerselvam
Before meeting with the Governor, Sasikala, attired in her signature green saree, visited the memorial of her predecessor Jayalalithaa. She was accompanied by hundreds of supporters, including some senior ministers.
At 5 pm, Panneerselvam had called on Rao and after a brief meeting told reporters that "good things will happen and dharma will triumph". 
Panneerselvam also held a meeting today with DGP TK Rajendran and state chief secretary Girija Vaidyanathan at his residence, ANI reported.   
Here are live updates: 
* Chinnamma (Sasikala) stakes claim to form Government: AIADMK
* Five Senior AIADMK leaders accompany Sasikala to Raj Bhavan to meet TN Governor C Vidyasagar Rao.
* Meeting between Sasikala and Governor Vidyasagar Rao is underway.
#WATCH: #Sasikala pays tribute at Jayalalithaa's memorial at Chennai's Marina Beach, brings with her letter of support claiming majority pic.twitter.com/Lndz82OJCN

— ANI (@ANI) February 9, 2017
* Sasikala will submit to Governor a letter of support from MLAs
* Sasikala leaves Jayalalithaa memorial at Marina beach for Raj Bhavan 
* Sasikala arrives at Jayalalithaa memorial at Marina beach 
Chennai: #SasikalaNatarajan leaves Poes Garden residence pic.twitter.com/8JD3KlPGbS

— ANI (@ANI) February 9, 2017
* Sasikala leaves Poes Garden residence
* AIADMK women cadres asked to go to Jayalalithaa memorial at Marina beach 
* I briefed Governor about the political developments in the state, want to stress that dharma will win: Panneerselvam
​
Chennai: #OPannerselvam reaches his residence after meeting Governor; to address media shortly pic.twitter.com/F2NScSpabo

— ANI (@ANI) February 9, 2017
* O Pannerselvam along with five MLAs meeting with Governor.
Chennai: #OPannerselvam reaches Raj Bhavan to meet Governor Vidyasagar Rao. pic.twitter.com/LJd6jHTslB

— ANI (@ANI) February 9, 2017
* Pannerselvam reaches Raj Bhavan to meet Governor Vidyasagar Rao.
Maharashtra Governor Rao, who also holds the charge of Tamil Nadu, was in Mumbai even as political turmoil was unfolding in Chennai. He arrived in the state capital around 3 pm today.   
"The Governor took the 1.25 PM Jet Airways flight to Chennai from Mumbai," a Raj Bhavan official told PTI. 
On the flight to Chennai, Rao refused to answer questions posed by journalists. 
The Governor's decision to return to Chennai triggered speculation about whether he will swear-in Sasikala after she mustered an overwhelming majority of AIADMK MLAs against a rebellious Panneerselvam, who claimed he has their backing. 
Rao had kept away from Chennai for the last three days amid a bitter war of words between Sasikala and Chief Minister O Panneerselvam.
Even as Sasikala replaced Panneerselvam as the leader of the AIADMK legislature party on Sunday, Rao has been reluctant to administer oath to her as Chief Minister after the Supreme Court had recently indicated that it could deliver a judgement soon in a disproportionate case involving the AIADMK leader.  
Sasikala became the AIADMK General Secretary after the death of her mentor Jayalalithaa. 
A conviction after being sworn-in could result in Sasikala having to step down as chief minister. A PIL was also filed in the apex seeking to restrain Sasikala from being sworn-in as chief minister, claiming that in the event of her having to resign if she is convicted in the disproportionate assets case, there could be law and order problem in the state. 
AIADMK claims that Sasikala has the suppport of almost all the MLAs of the party, which have been sent away from the capital.   
"We have letter of support for VK Sasikala from 135 MLAs including #Paneerselvam, we still have that letter. MLAs have been staying at their convenience at hotels etc, they have not been forced or compelled to do anything. All AIADMK MLAs are willing to meet the Governor if he wishes to meet as well," K Pandiarajan, Tamil Nadu Education Minister, said.  
However, Panneerselvam got a shot in the arm today when senior AIADMK leader Madhusudanan, considered number two in the party after Sasikala, switched sides and announced his support for him.  
"I have come to offer my support to Panneerselvam'," Madhusudanan said while arriving at Panneerselvam's house.  
Panneerselvam said that Madhusudanan threatened and pressurised by Sasikala. "Our senior leader Madhusudan was threatened & pressurised, even after that he stood alone to safeguard party. We welcome him," he said.