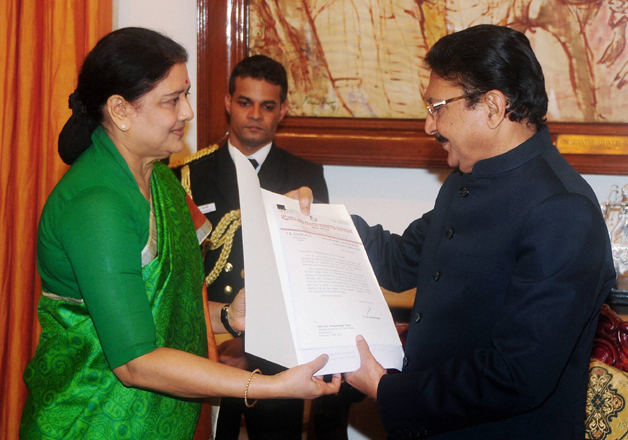 Tamil Nadu Governor Vidyasagar Rao is understood to have made it clear that he will await the judgement of the Supreme Court in disproportionate assets case against AIADMK general secretary and CM-designate VK Sasikala before taking any decision on the issue of Chief Ministership.
According to media reports, Rao, in a report sent to the Centre, has said that he was consulting legal luminaries in the wake of the 'unique' situation.
In the report, he is believed to have cited various provisions of the Constitution and the Supreme Court's verdict to suggest that he will wait for a clear picture to emerge before taking any decision.
The Governor is believed to have said that in view of the impending judgement of the Supreme Court there is an uncertainty about Sasikala's qualification to become an MLA and hence the Chief Minister. The SC will pronounce its verdict in the 21-year-old Rs 66 crore disproportionate assets case against Sasikala next week. 
The report also said that the Governor was of the view that there is no power vacuum in the state since incumbent Chief Minister O Panneerselvam has been asked to continue consequent to his resignation until alternative arrangements are made.
Raj Bhavan denies sending report to Centre 
Governor Rao, however, later denied sending any report on the present political situation in the state to either the Union Home Ministry or the President.
"Vidyasagar Rao, the Governor of Tamil Nadu has not sent any report either to the Union Ministry of Home Affairs or to the President of India as reported in some of the media," the Raj Bhavan release said.
Sasikala was elected as the AIADMK general secretary following the death of Jayalalithaa in December last year and elected leader of the legislature party on February 5.
Panneerselvam revolted against the party general secretary on Tuesday night, alleging that he was forced to resign as the Chief Minister to pave the way for Sasikala to occupy that chair. But the supporters of Sasikala continued attacking Panneerselvam, charging him with betraying the party.
Former Union Minister E Ponnusamy on Friday also chose to side with Panneerselvam, thus adding strength to the beleaguered acting Chief Minister's camp. It is believed that E Madhusudanan (a close aide of late CM Jayalalithaa) and Ponnusamy will help garner support of their loyals for Pannerselvam.