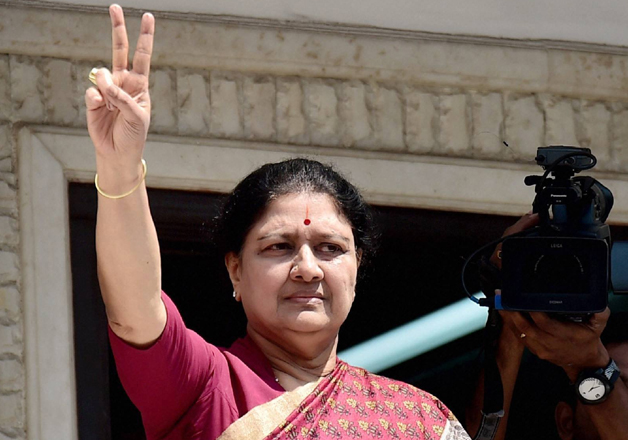 Tamil Nadu CM-designate and AIADMK supremo VK Sasikala today sought an appointment with state's acting Governor Vidyasagar Rao to prove her majority.
In her letter to the Governor, copies of which were issued to the media, Sasikala said that caretaker Chief Minister O Panneerselvam has resigned from his post and the same was accepted by the Governor a week ago.
"...taking the urgency of the situation at hand, I would like to seek an appointment with Your Excellency by today with all MLAs (Members of Legislative Assembly) who extended their support to me regarding further course of action to form the Government," Sasikala told Rao.
"I believe Your Excellency will act immediately to save the Sovereignty of the Constitution, democracy and the interest of the State," the letter notes.
#SasikalaNatarajan writes letter to TN Governor C. Vidyasagar Rao; seeks appointment to prove majority. pic.twitter.com/cmJYNT95JF

— ANI (@ANI) February 11, 2017
Addressed party workers at Poes Garden residence earlier today, Sasikala assured them that the party will come out victorious in its present hour of crisis.
The AIADMK leader said their patience also had a limit. "Since we believe in justice and democracy, we are little patient. But we can be patient only to a certain extent. After that we have to jointly do what we have to," she said amidst cries of 'Chinnama' by her supporters.
"It is my duty to lead the party and government. The manoeuvring of a few people cannot hurt this mass movement which has 1.5 crore supporters left behind by Amma (Jayalalithaa)," she said.
The party workers were "everything" for her and Jayalalithaa had died with the confidence "I will protect the party and the government," she added.
She said Jayalalithaa had steered the party to great heights amidst a lot of challenges and this had resulted in AIADMK becoming the third largest one in the Parliament. 
AIADMK was a "strong fort" which cannot be "shaken" by anybody, Sasikala said, and added: "Amma is with us and identifying the detractors. With the support of 1.5 crore supporters, those trying to divide us will fail."
Two MPs, state Minister join OPS camp 
The development comes close on the heels of two Lok Sabha MPS and a state Minister extending their support to the OPS to stop 'Chinnamma' from taking over the reins from late CM Jayalalithaa's Man Friday.
The two MPs who have backed Panneerselvam are -- Ashok Kumar representing Krishnagiri constituency and Sundaram representing Namakkal. Earlier, sitting Rajya Sabha MP V Maitreyan had joined Panneerselvam camp. The AIADMK has 37 MPs in Lok Sabha.
News agency ANI reported that state Minister K Pandiarajan will meet Panneerselvam later in the day and announce his support. 
Reacting to the development, the caretaker CM said, "I am confident all leaders who care about Tamil people will come and join us. Amma's soul is leading us, truth will win."
In a rarely seen intra-party political tussle in the AIADMK, Panneerselvam openly revolted against Sasikala on February 7, two days after she was elected the Legislature Party leader for her elevation as Chief Minister. He had alleged that he was forced to step down as Chief Minister to make way for Sasikala.