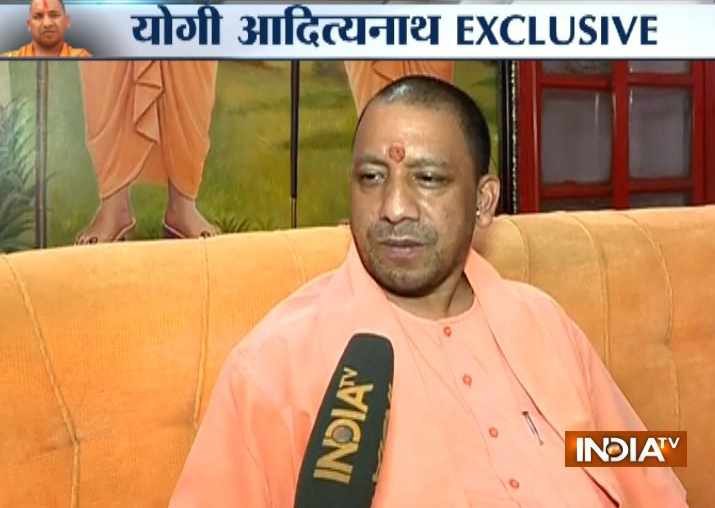 A day after BJP MLA Sangeet Som's controversial remark over Taj Mahal triggered a row, Uttar Pradesh Chief Minister Yogi Adityanahth today termed the 17th century monument a part of India's heritage and said that the government is committed to develop and serve the tourists visiting the city of Agra.
In an exclusive chat with India TV, Adityanath brushed aside the controversy saying "government has planned tourism projects worth Rs 370 crore under which schemes are meant for the Taj Mahal and its surrounding areas in Agra".
Som had on Monday triggered a controversy when he questioned the 17th century architectural marvel's place in India's heritage and said that history would be rewritten to erase Mughal emperors from it.
Here are 10 key points from Yogi Adityanath's interview: 
1. The world today recognises Agra… who built it (Taj Mahal), how it was built, is not a matter of controversy; it was built by blood and sweat of Indian labourers.
2. Taj Mahal is heritage of India and the tourist from different parts of the world visit the city. The city is a famous tourist destination. 
3. Government's priority is to serve tourists by providing them better facilities and security and my government is discharging its duties.
4. On October 26, I am going to Agra. I will review the progress of development works… Rs 370 crore project to develop Agra and nearby areas has been sent to World Bank and we are hopeful of getting clearance soon. 
5. (On October 26) I will also launch a special drive to promote tourism and cleanliness drive between Taj Mahal and the fort in the city.
6. To a question related to removal of Taj Mahal from the Uttar Pradesh tourism booklet, he said: I would like make it very clear that there is no such booklet. In tourism list, Taj Mahal is at the top spot.
7. Lakhs of tourists from different pockets of the world are today visiting Agra… how can you ignore such a place? Matter of faith is different things, and my government is committed to develop Agra. 
8. To a question related to SP leader Azam Khan's remark that he will support UP govt if it demolishes Taj Mahal, the CM said: What else can you expect from a man like Azam Khan? He encourages every negative thing. Our priority is promoting tourism. 
9. To a question related to AIMIM chief Asaduddin Owaisi's remark that 'traitors built Red Fort', he said: He is an envious person. His remarks are unnecessary.
10. On Ayodhya, he said: Ayodhya is a part of our heritage. To preserve and develop the city is our responsibility. 
Watch full video of exclusive interview here