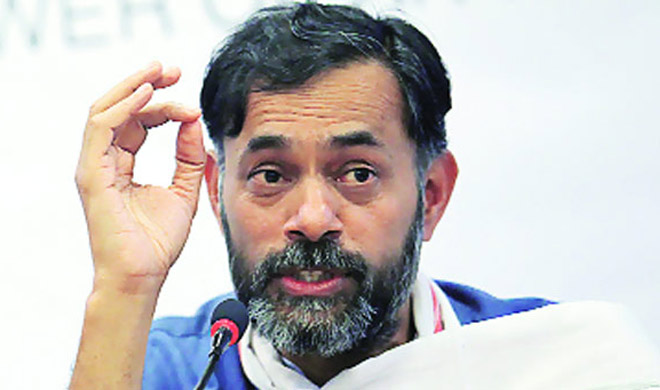 New Delhi: As Swaraj Abhiyan completed one year today, its leader Yogendra Yadav made an announcement that the organisation will hold internal polls at district level to form a national committee.
In 13 states, 117 districts have subscribed for internal elections.
There will be a Membership Drive in more than 200 districts across the country.
The Abhiyan, which was formed by former AAP leaders a year back this day, will hold internal elections on the lines of US primaries, starting from the district level to appoint a national-level committee in the next 2-3 months which will take a final call on forming a political party, Mr Yadav said.
"We are not an NGO, but a movement for establishment of alternative politics. We have set a yardstick for ourselves and this requires setting up of units at the district level in at least one-third of six states spanning 100 districts.
"In the next 2-3 months, the district units will appoint members for state units, which will appoint a national committee. The national committee will take a decision on forming a political party," Mr Yadav said at the inauguration of the outfit'sDelhi unit.
Activist-lawyer Prashant Bhushan, one of the founders of the outfit, was not present.
"We are providing people a platform to elect their own candidate. Swaraj Abhiyan will only facilitate the process, scan candidates for corruption and criminal charges and this will be done by an election committee," Mr Yadav said.
When asked whether the Abhiyan would be contesting Punjab polls next year, Mr Yadav said the national committee will take a call on this after internal polls.
The Abhiyan had backed Bhai Baldeep Singh as an Independent candidate for Khadoor Sahib bypolls, but he was disqualified during the screening process on technical grounds.
Mr Yadav, however, said that the outfit will be backing an Independent candidate for the MCD polls.
Bypolls in 13 MCD wards are slated to be held next month.
Without taking any name, Mr Yadav said the Abhiyan's process of people electing prospective candidates, has rattled those in power.
"We had put some posters. They were torn down. Then our volunteers were detained at Keshavpuram police station. This process of people electing candidates have rattled the ones in power," he said.
Former AAP leader Anand Kumar said Kamini Jaiswal, a noted lawyer, and Pawan Gupta will be the first Lokpal of Swaraj Abhiyan.
Abhiyan secretary Ajit Jha said the outfit has its presence with a minimum of 100 members in 117 districts in the country and it is expected to reach 250 soon.
"We are aiming at having financial transparency, internal democracy and participatory leadership in the organisation," Mr Jha said.
The office space has been given by Veena Anand, former AAP legislator from Patel Nagar, who was denied party ticket in 2015 Assembly polls and later contested as an Independent.
Former AAP leaders Yadav, Bhushan, Anand Kumar and Ajit Tyagi, formed the Swaraj Abhiyan days before their expulsion from the party after they crossed swords with its chief Arvind Kejriwal.
Over the past one year, Abhiyan has undertaken Samvedna Yatra in drought-hit areas in the country, filed a petition in the Supreme Court for drought relief and formation of anti-corruption and citizen's whistle blower forum.
(With inputs from PTI)