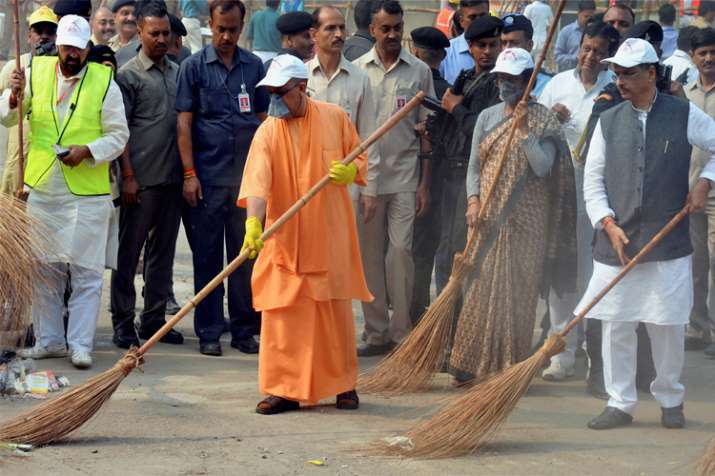 Uttar Pradesh Chief Minister Yogi Adityanath on Thursday swept the road outside the Taj Mahal and then went inside the Mughal era monument in a damage control exercise following the controversy over its place in Indian heritage. 
The much publicised visit, the first by a BJP chief minister of the state, comes days after the party's leaders and ministers made provocative statements against the famed symbol of love. 
Accompanied by scores of security personnel, officials and jostling crowds of supporters, Adityanath spent nearly half an hour in the Taj complex, gazing at the 17th century architectural marvel before going inside. 
He also posed for photographs with foreign tourists and interacted with them. 
Chants of "Bharat Mata Ki Jai" and slogans in Adityanath's praise could be heard as he walked the path leading to the Taj Mahal, along with state Tourism Minister Rita Bahuguna Joshi. 
He entered from the western gate, where he swept the road along with senior leaders, and exited from the eastern gate, going straight to a state tourism hotel for a presentation by the Archaeological Survey of India. 
Donning a mask, wearing yellow gloves and wielding a broom, Adityanath was accompanied by about 500 BJP members, including MLAs from western Uttar Pradesh, as he swept a parking area, in an apparent bid to promote the Swachh Bharat mission. 
Over 14,000 policemen were deployed across the city for the security of Adityanath, who arrived here early this morning. 
His decision to visit the Taj Mahal was announced after a series of controversies erupted, beginning with a UP tourism department booklet not mentioning the white marble monument in its list of development projects in the state. 
Subsequently, BJP MLA Sangeet Som called Taj Mahal a "blot on Indian history" and BJP MP Vinay Katiyar said it was originally a Shiva temple. 
However, addressing a rally in Gorakhpur recently, Adityanath called Taj Mahal the "pride of India" and referred to it as a "world class monument".
This was a significant departure from his remarks at a rally in Bihar last year, when he had said the Taj does not represent Indian culture and that visiting foreign dignitaries should be presented with the Gita rather than replicas of Taj Mahal. 
Interestingly, while the chief minister was inside the Taj Mahal, his party's MLA from North Agra was telling reporters that the Mughals demolished a temple before building it. 
(With PTI inputs)