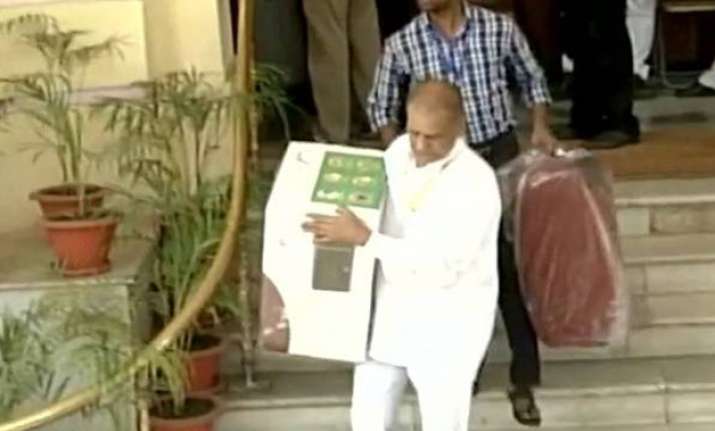 Patna: Ahead of Holi, it is raining gifts for MLAs in Bihar during the ongoing Budget session of the state Assembly. Besides the microwave ovens given to the legislators costing the state exchequer an estimated Rs 25 to 30 lakh, suitcases and mobile phones were other gifts doled out to them by various departments of Bihar's Mahagatbandhan government headed by Nitish Kumar.
And the justification by the state ministers for giving the lavish gifts ranged from an old custom to using the ovens to heat the food served in midday meal scheme in the constituencies of the MLAs. Bihar has 243 legislators.
The MLAs, ruling as well opposition, are being given luxury suitcases and other expensive gift items provided to them by departments listed for special debate and whose budget is listed for approval on that particular day in the House.
Yesterday, it was the turn of the state Education department to provide microwave ovens to the Legislators. Everyday, loads of gifts could be seen neatly stacked up near the main entrance of the Assembly not far away from Chief Minister's chamber which the MLAs pick up after signing in front of their name in the list while going for lunch after the morning session.
When Education Minister Ashok Choudhary was asked by reporters about the reasons for giving expensive gifts like microwave oven today he came out with his own explanation.
"The microwave oven has been given as it could be used by MLAs to heat the food served in midday meal scheme in their areas and test at home for its quality," Choudhary, who is also state Congress president, told reporters.
Asked whether showering MLAs with microwave ovens was justified when the state government was not able to pay salaries to teachers due to lack of funds, he said, "it costs not more than Rs 25-30 lakh and hence relating it with other issues is not justified. Please don't hype it up like this."
Deputy Chief Minister and RJD leader Tejaswi Yadav said giving gift is an old custom.
He said the MLAs are economically not that well off and hence providing microwave oven would help them.