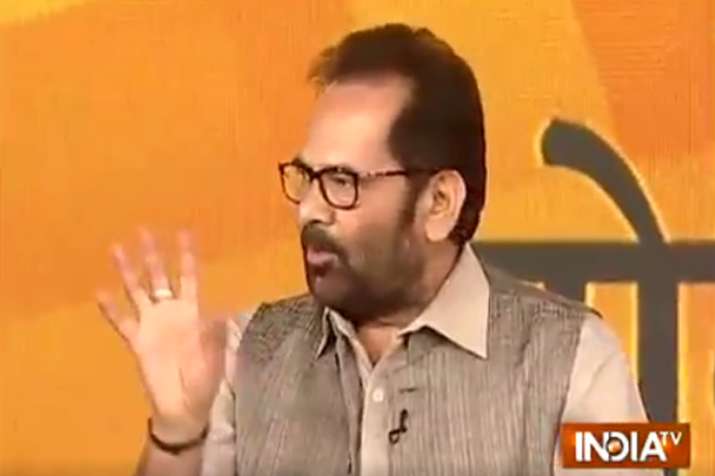 Union Minority Affairs Minister Mukhtar Abbas Naqvi today assured the country that defence forces are enough capable to deal with Pakistan and that they are giving befitting reply to the neighbouring country.
Participating in a panel discussion on India TV's 'Samvaad' conclave to assess the works done by the NDA government, Naqvi said that the government has successfully branded Pakistan as a 'terror country'. 
We will bring a strong #Lokpal soon, assures @naqvimukhtar in #IndiaTVSamvaad pic.twitter.com/VNKh3sBdoM

— India TV (@indiatvnews) May 15, 2017
"We are and will keep avenging the killings of jawans with 'interest'," Naqvi said.
"Pakistan has been isolated. We have proved that Pakistan is a country where terrorism is getting flourished. The world has recognised us," Naqvi added.
Senior Samajwadi Party leader Naresh Aggrawal, who was among the other speakers, accused the government of 'doing nothing to avenge the killings'.
"Our soldiers are getting killed. In Israel or in US, if a soldier was killed, they would have retaliated in same manner," he noted.
"Why it took three years to prove Pakistan a terrorist country? Has America given you the certificate that Pakistan is a terror country?" Aggrawal asked.
Speaking on the contentious issue of Lokpal, Naqvi said that the BJP-led NDA government was committed to bring a strong Lokpal to deal with corruption issues. 
"We will bring a strong Lokpal soon," Naqvi assured.
To this, Aggrawal replied: "Despite being in the opposition, I have never favoured for Lokpal. Has corruption ended in states wherever Lokayuktas are functioning?"
Further, he said that the BJP was misleading the country with its policies. Calling Jammu and Kashmir CM Mehbooba Mufti a sympathiser of terrorists, he dared Naqvi to announce that Article 370 be repealed in the Valley.
To this Naqvi replied: "Have they (PDP) sought support from separatists or anyone ever since we formed the government. You know very well that to repeal Article 370, we have to amend the Constitution. And to amend the Constitution, we need Congress' support, your support. Will you support us?"
Naqvi also rubbished the reports that the government has been in practice of calling people anti-nationals for opposing the BJP-led coalition government.
"We don't brand anyone as an anti-national for just opposing the BJP. But what happened in JNU, was not nationalistic. We will never call them  nationalistic, they are anti-nationals," he said. 
To a question about the possibility of opposition parties coming together ahead of 2019 general elections, Aggarwal said, "We (Congress, BSP, SP) will unite. Word 'impossible' don't exists in politics. We will do everything possible to dislodge the BJP."
'Teen saal desh behaal'
Congress party's Akhilesh Pratap Singh described the three-year tenure of the government as 'teen saal desh behaal'. "Only names of schemes have changed, and nothing else. Take example of Aadhaar. People who used to criticise it, today are lauding it."
Highlighting the poor condition of farmers, he said that the Modi government has failed drastically to fulfil its promises made during elections.
"You (BJP) had promised high MSP to farmers, but what has happened?" he questioned.
On LPG subsidy, he said that the Prime Minister was spready lies. 
"Now people are demanding that the subsidy be given back to them. But government has added a clause that once you give up your subsidy, you have to wait for one year. This is because of the difference between the price of subsidized and non-subsidized LPGs," he said.
On black money, he said that the government has provided many windows to convert black money into white.
BSP leader Sudheendra Bhadoriam who was fourth person on the panel, said that the 'sabka sath, sabka vikas' slogan has failed. 
"Every second child is victim of malnutrition today," he said, adding that "No one is safe even in Delhi. Everyday Nirbhaya like incidents are taking place."
On tapes leaked by Naseemuddin Siddiqui exposing Mayawati, he said, "The tapes don't certify anything. Why media never debated Nira Radia tapes?"