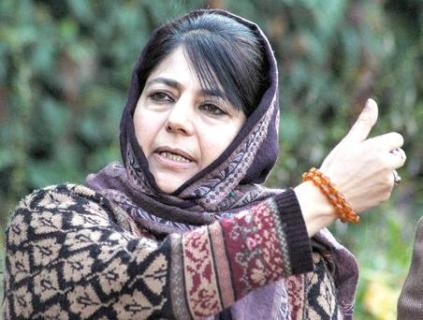 The brutal lynching of the Deputy Superintendent of Police by an angry mob outside Jamia Masjid in Srinagar's Nowhatta area has drawn strong condemnation from politicians across party lines. 
Jammu and Kashmir Chief Minister Mehbooba Mufti termed the incident as a "shameful" act and warned the people of the state not to test the patience of the security forces, who use restraint in dealing with locals. 
"Nothing can be more shameful than to kill someone who works for the welfare of the people. The Jammu and Kashmir Police are showing maximum restraint as they are dealing with their own people, but for how long? Someday when they will lose their patience, then it would become very difficult for the people," said Mufti after attending the wreath laying ceremony of slain DSP Ayyub Pandit here.
She further stressed that police were deployed to protect the lives of the locals, but warned that the past may return and security forces may be compelled to use maximum force on people if things continued in the same manner.
Condemning the incident, leader of the opposition National Conference Party, Omar Abdullah, said that the manner of DSP Ayyub's death was a travesty.
"May the people who lynched DySP Pandith burn in hell for their sins," Abdullah tweeted.
Separatist leader Mirwaiz Umar Farooq also criticised the lynching stating that such brutality to snatch the humanity and values cannot be allowed. "Deeply disturbed and condemn the brutal act at Nowhatta. Mob violence and public lynching is outside the parameters of our values and religion.... We cannot allow state brutality to snatch our humanity and values," he said. 
Jammu and Kashmir Deputy Chief Minister Nirmal Singh on Friday branded the cop lynching incident as 'murder' and assured action in the matter.
"I condemn it in the strongest words because it's a crime. It's a murder. The government will take it in that way and the police will take a strong action against them," Singh told ANI.
In an apparent reference to the separatists, Singh said that those who claim that they are for the welfare of the people don't even utter a word when such incidents take place.
"This is a cowardice approach on their part. They should come out. These people only talk in favour of pro-Pakistani elements but when the question of our security forces come, these people don't act," he added.
Last night, DSP Ayyub Pandit was beaten to death by a mob in the Nowhatta area of Srinagar. His body was recovered from outside the Jamia Masjid in Nowhatta.
Pandit was allegedly on surveillance and was clicking pictures of people emerging from the Jamia Masjid mosque, when a mob attacked him. After the situation became out of control, the cop in his own defence open fired on the mob using his service pistol, in which three people got injured.
The angry mob then proceeded to attack him more severely and ended up taking his life.