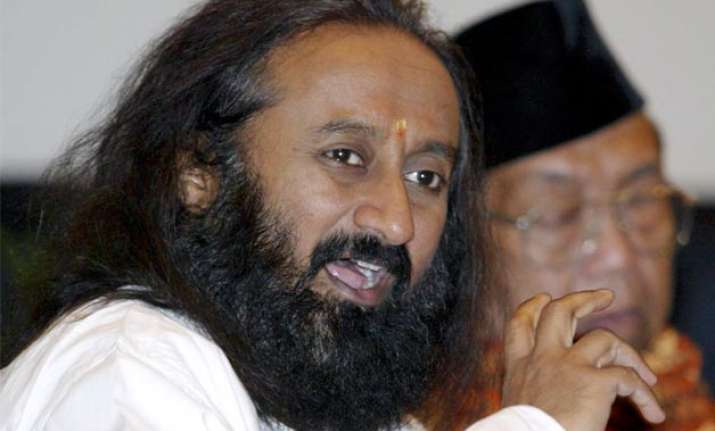 New Delhi: Spiritual guru Sri Sri Ravi Shankar today appealed the political parties not to politicise the Art of living foundation's mega event World Culture Festival 2016 that is planned on the Yamuna flood plains.
In his tweet, Sri Sri appealed to the political parties, "It is to unite all cultures, nations, religions & ideologies. Let's come together!"
Spiritual guru's reaction came after the opposition criticised the government for deploying Indian Army to construct pontoon bridges for the World Culture Festival.
The protesting members raised a stink in the Rajya Sabha over how the foundation was allowed to hold the event -- expected to draw some three lakh people -- that threatens the fragile Yamuna.
"There is this person (Ravi Shankar) who is saying he is doing a cultural festival, and you put the army there to construct bridges. The government should shut this down immediately. In 1,000 acres, they are doing this. It will destroy Yamuna," Janata Dal-United (JD-U) leader Sharad Yadav said.
Some other opposition members got up and started shouting slogans "Save army" and "Rakhsa mantri jawaab do" demanding that the defence minister respond to their protests.
As the ruckus grew louder, Communist Party of India-Marxist (CPI-M) leader Sitaram Yechury alleged that it was "highly irregular" that the services of the Indian Army are being used for such an event.
"Can the Indian Army be roped in to build pontoon bridges? It is highly irregular that the army is summoned to create facility for a private function," Yechury said.
Congress member M.S. Gill echoed the concerns. "How can you send the army to build bridge?"
Leader of Opposition Ghulam Nabi Azad questioned why an environmental clearance was not taken before the Delhi government gave the event a green signal.
Finance Minister Arun Jaitley, who is Leader of the House, said it was not proper to raise the issue in the Rajya Sabha when a tribunal is hearing the case.
The "World Culture Festival", organised by the Art of Living Foundation, is awaiting a nod from a Delhi green court, which is expected to give its verdict today.
The mega-event marks 35 years of the foundation run by Sri Sri Ravi Shankar -- a spritual guru for many, and considered close to Prime Minister Narendra Modi as well.
(with IANS inputs)