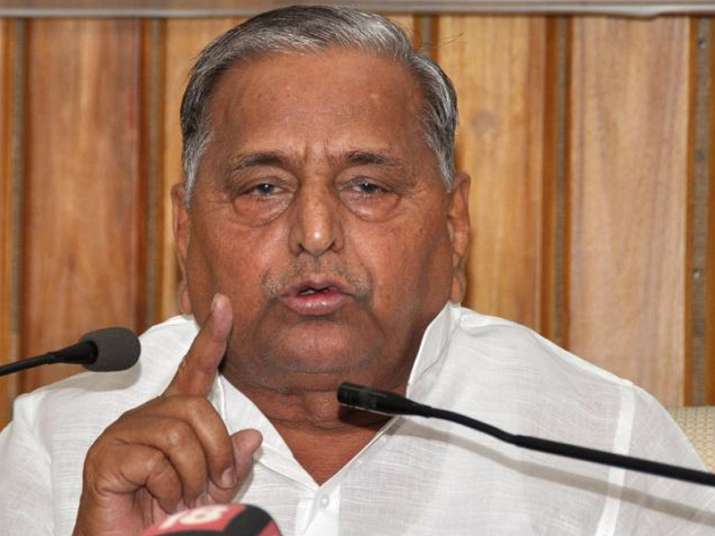 A day after his son Akhilesh Yadav dropped ample hints that he was ready for a 'maha gathbandhan' (grand alliance) ahead of the next general elections, Smajawadi Party patriarch Mulayam Singh Yadav said that he was against any such alliance and that the party was 'capable enough to win elections alone'.
"Samajwadi Party is capable enough to win elections. You all are aware of the party's alliance with Congress," Mulayam, who was in Mainpuri on Sunday, said.
Akhilesh had on Saturday said that he was open to BSP supremo Mayawati's idea of floating an alliance of anti-BJP parties to stop the saffron party's winning rath.
The former national president of Samajwadi Party also justified Akhilesh's doubts on EVMs.
"Akhilesh Yadav is stating this on the basis of reports about anomalies in working of EVMs," he said.
Further, the SP patron blamed the media and voters for the party's electoral loss in the Uttar Pradesh Assembly.
He claimed that the media only highlighted the family feud in the Samajwadi Party, while the people of Uttar Pradesh were 'befooled' by the BJP. 
"Despite rendering a good performance (by the Akhilesh Yadav government), the voters inflicted a defeat to the SP. The people were befooled by call of Chal Modi - Chal Modi, and they went with the BJP. The media only gave prominence to the family feud of the Samajwadi Party family. If the media had shown anarchy during the SP rule, it must highlight the same during regime of other parties as well," he said.
On the issue of change of leadership in the party following the drubbing in the UP Assembly polls in which SP got 47 seats, he said that for him the post of party chief is 'meaningless'. 
"Which post did socialist ideologues Ram Manohar Lohia and Jai Prakash Narayan hold?" he asked. 
The SP patron also categorically mentioned that whatever be his next step, it would be in the interest of the party and people.