Follow us on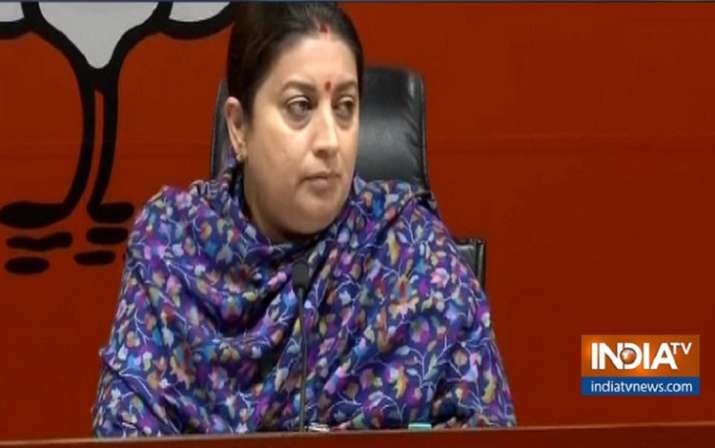 Union Textiles Minister Smriti Irani on Tuesday launched a scathing attack on the Congress and the party's former president Sonia Gandhi, saying there was clear proof of a conspiracy to destroy BJP president Amit Shah
Addressing a press conference in New Delhi, Smriti Irani, referring to the Sohrabuddin encounter case, said the Congress used the CBI to frame Amit Shah.
Irani claimed that the Sohrabuddin case was politically motivated. "The entire investigation was carried out according to a set script to achieve certain goals. Truth has finally won in a case that was nothing but a conspiracy by Congress," she said.
The Union minister even went on to accuse the CBI of creating evidence for a manufactured probe in the case.
Observing that there were no substantial evidence to prove conspiracy and murder, a special Central Bureau of Investigation (CBI) court in Mumbai had acquitted last month all 22 accused in the sensational Sohrabuddin Sheikh encounter case.
The Special CBI judge observed in his order that all the witnesses and proofs were not satisfactory to prove conspiracy and murder, the court also observed that circumstantial evidence is not substantial.
"Government machinery and prosecution put in a lot of effort, 210 witnesses were brought but satisfactory evidence didn't come and witnesses turned hostile. No fault of prosecutor if witnesses don't speak," the court said.
The court had discharged 14 police officials and BJP president Amit Shah in the case in 2014.
The CBI had claimed that gangster Sohrabuddin Shaikh, his wife Kausar Bi and their aide Tulsiram Prajapati were killed in 'fake' encounters by the police of Gujarat, Rajasthan in 2005-2006.