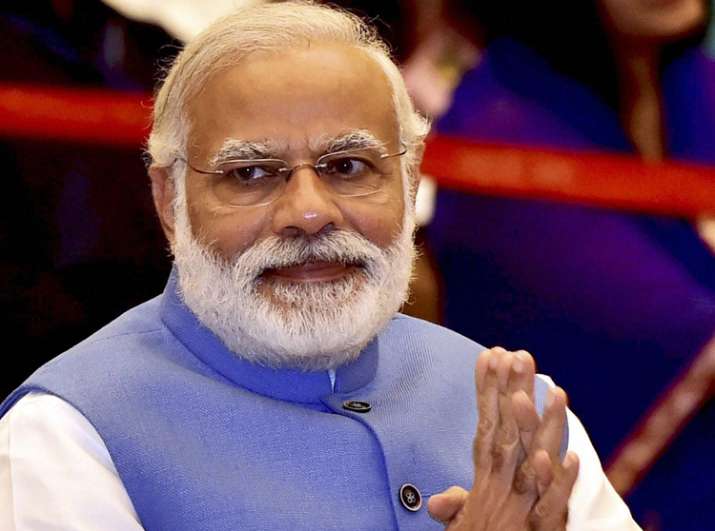 Prime Minister Narendra Modi on Saturday asked youth to use technology to bring about the changes that the country needs and urged them not to let their setbacks dampen their spirits.
Addressing over 10000 participants in the Smart India hackathon, an HRD Ministry initiative to promote innovation, especially among engineering students, he said technological solutions are at the heart of his initiatives like 'New India', smart cities and cashless transactions. 
The Prime Minister pitched for enhanced use of information technology to solve day-to-day problems facing the society and urged budding innovators to come out with solutions. 
"Technology has made things so much simpler. Technology and innovation are powering so many changes. Things like floppies, tape recorders and the walkman are history. Artificial intelligence, 3D technology...see how the world is undergoing changes. This is an era of 'Internet of Things'," he said in his address at the Smart India Hackathon 2017.
He also asked participants to distinguish between knowledge and skill, and said their focus on "skill engagement optimisation" will play a key role in converting demographic dividend into development dividend to pave the way for a new India.
Modi also underlined his government's commitment to the initiative, saying over 29 ministries are involved in the exercise and solutions that come out of it will be taken to their logical conclusion. 
India has played a lead role in knowledge since ancient times, he said, noting that 'zero' was invented here and it has travelled from "Upanishads to 'upgrah' (satellites)".
"But there is a need to use more information technology to solve problems facing the society. The society is getting more technology-driven," he said. 
Following his speech via video conference he also interacted with several participants in several cities who shared their innovations and ideas with him. 
While interacting with the students, Modi said the passion to realise the dream of "new India" should be akin to every Indian's dream for freedom in pre-independence India. 
He said it is an illusion that government knows everything and has solutions to all problems as he asserted that people outside it also have lots of good ideas and they can together solve existing problems. 
He noted that the hackathon participants have been tasked with the responsibility of finding solutions to over 500 problems and challenges for the society in day-to-day life, and told them that it is a challenge as well as opportunity for them. 
"When you channelise your energy in the field of governance, many positive results will come out of it," he said. 
Mentioning innovations like driver-less vehicles, he said of all things internet will be very important in the coming times and it is being used extensively in the smart city project. 
Innovation is the foundation of future and history is written by those who challenge the existing order, he said. 
Modi asked them to persevere and never give up on their ideas as he noted that many entrepreneurs were rejected before they went on to found billion dollar firms. 
His government has launched start-up India and Mudra scheme to help innovators, he said. 
The session had few light-hearted moments as well. At one point, interacting with a student named Adinath, Modi said, "Ek Adityanath hai, aur ek Adinath". A smiling Modi also asked the student whether he was interested in joining politics. 
The PM sought solutions to tackle cyber crime from the participants. 
Ideas proposed by the students included distribution of low-cost sanitary napkins in rural areas and engaging them in projects to develop rural infrastucture. 
Describing democracy as the "true essence of Jan Bhagidari", Modi said that together all the problems can be resolved.
"The true essence of democracy is Jan Bhagidari. Together we will solve all the issues that are affecting the nation. This will be done through Jan Bhagidari," Modi said while addressing the Smart India Hackathon through video conferencing.
Encouraging the youth to fulfill their dreams, the Prime Minister said that while innovating new ideas, they may face setbacks but they don't need to lower their morale.
"When you are innovating, you may face setbacks but do not let those setbacks dampen your spirits," he said.
Modi also cautioned them not to compromise with quality.
"When you are innovating, remember that quality is key. Good quality products will bring changes in the lives of many people," he said.
"Youth of India wants to find solutions to the nation's problems. They want results that are quick and credible," Modi added.
The Prime Minister said that there was a perception about democracy and it was restricted to voting only but this is not the reality.
"Democracy is not only giving contract to one government for five years. In reality it is Jan Bhagidari," Modi said. 
"A series of issues have been placed before our youth to work on. The issues are challenging but this is also an opportunity. There is a need to use technology more and innovate more. We live in a technology driven era," he added.
Modi said that the youth of India is blessed with phenomenal energy and this energy will bring very good results for the nation.
"India is a youthful nation. The youth of India has come together with enthusiasm for this programme. I am confident the outcomes of what my young friends are doing will lead to very positive results," the Prime Minister said.
 'Smart India Hackathon 2017': Over 300 engineering students take part in Modi's pet project 
Over 300 engineering students from across the country coverged here today to participate in the 'Smart India Hackathon 2017', a dream project of Prime Minister Narendra Modi. 
The Hackathon, the name derived from marathon, is a pan-India programme where the participating teams from different institutions took part in a video conference with the prime minister from across six centres in the country.
The hackathon is aimed at offering digital sustainable out-of-the-box solutions to solve real time challenges faced by the nation, he said adding "Through Smart India hackathon we hope to create world's biggest innovation model." 
About 30 government departments/ministries are involved as partners in the exercise, directly engaging with students.