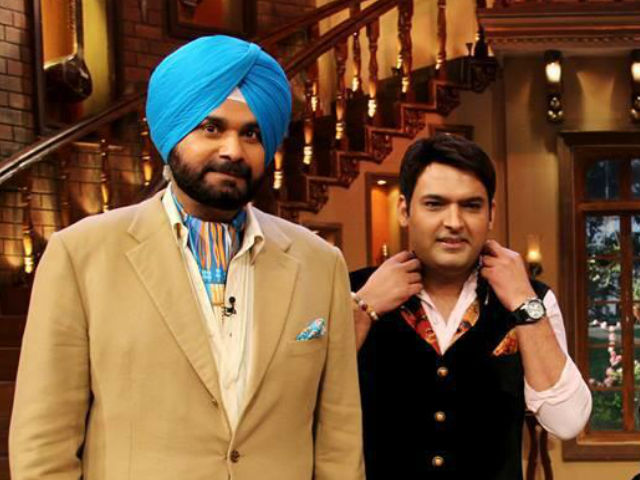 Punjab Minister Navjot Singh Sidhu can continue as a celebrity-judge on a popular TV comedy show and there is no conflict of interest in it, state's Advocate General Atul Nanda has said in his legal opinion. 
His response to Chief Minister Amarinder Singh who had sought the legal opinion in the matter is somewhat contrary to what Attorney General Mukul Rohatgi said today. 
Sidhu, as a public servant, should refrain from doing television owing to his moral responsibility to disassociate with any commercial activity, even though there is no law which bars such a move, Rohatgi said today. 
He said the Chief Minister should advise his cabinet colleague to refrain from doing the popular TV show. 
However, as per Nanda's opinion, Sidhu faces no legal barrier in continuing with his work on the show. 
The 53-year-old cricketer-turned-politician is a special judge on 'The Kapil Sharma Show'. 
"The Chief Minister has confirmed that he has received the report from the AG on the issue. Now there is no hindrance to Sidhu's continuation on TV shows, nor there is any need to change his culture portfolio," Amarinder Singh's Media Advisor Raveen Thukral said here today.
"There was, in the opinion of the AG, no violation of the Constitution of India, the Representation of the People Act, 1951 or the Code of Conduct in this case," he said. 
"There is no conflict of interest between his work on the show and his office and discharge of duties as the Minister of Local Government, Tourism, Cultural Affairs, Archives and Museums for the State of Punjab," Thukral said citing the AG's four-page report. 
Singh had asked the Advocate General to give his opinion on whether there was any prohibition or restriction in continuation of Sidhu's work as a celebrity guest on "The Kapil Sharma Show". 
The report noted that the role and function of a celebrity judge on the show is "not an office of profit under the Government of India/the State Government". 
"It is not even an office under the Government of India/ State Government. Hence the continuation of such work would not invite the disqualification of holding of an office of profit within the meaning of Article 191(1)," it said. 
The AG opined there is "no impediment to the minister continuing with his work on the show in terms of the Representation of the Peoples Act, 1951, which sets out various disqualifications under Sections 8, 8-A, 9, 9-A, 10, 10-A, 11-A". 
"The minister's continuation of work on the show also does not violate Clause 1(b) of the Minster's Code of Conduct," he noted. 
Punjab CM should ask Sidhu to refrain frm doing TV: Rohatgi 
Attorney General Mukul Rohatgi today said that Amarinder Singh should advise Sidhu to refrain from doing the popular TV show. 
The top law officer, while speaking to a TV channel, said there was no provision in the Constitution to disqualify an MLA or minister if he engages in private business, adding that "there is a moral and ethical responsibility as per which a public servant must disassociate from any commercial activity." 
"The greater the position, the greater the responsibility. So if you indulge in business in the evening, it is like saying switch off and switch on. You say you are a public servant from 10 AM to 6 PM and from 6 PM to 8 AM you are not a public servant. That is not a position which is countenance in democracy," the AG said. 
"If a gentleman continues to do so, while there might not be a legal bar, it is the duty of the CM or the PM (as the case may be) to advise his minister and take remedial action," Rohatgi said. 
"If the CM (of Punjab) thinks it is inappropriate, Sidhu may not continue with it," he added. 
The Attorney General's response came hours after Punjab Chief Minister Amarinder Singh said he has no problems in Sidhu continuing to work in television, if it was allowed as per legal and constitutional provisions. 
Sidhu can do TV if it's main source of income: Amarinder 
Amarinder said Sidhu should be allowed to do the television show, if that is his main source of income. 
He personally felt Sidhu should be allowed to make his living by continuing to earn through the TV show, if that was his main source of income, an official release quoting the Chief Minister said here. 
"How does one live without adequate income?" he asked, adding "do they (those opposing Sidhu's appearance on the TV show) want to make ministers corrupt (by stopping them from earning their livelihood)?" 
The Chief Minister said he did not personally think there was any conflict of interest, as stated by the Attorney General of India, it said. 
Amarinder had earlier said he had no objection on Sidhu continuing to appear on television, but would change his portfolio of culture minister if it was in conflict with his show. 
The official release quoted Amarinder as saying in an interview to a private channel.