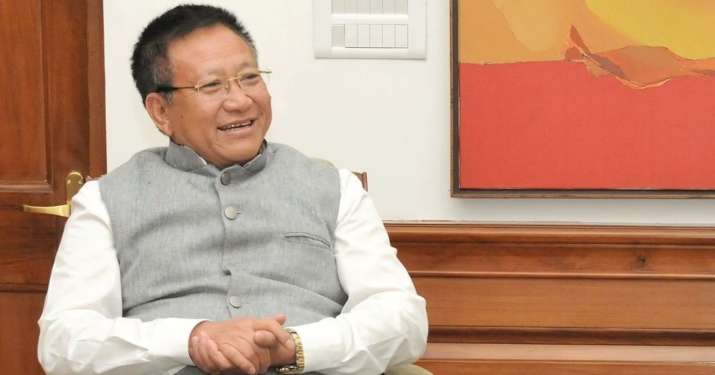 Signaling an end to the ongoing crisis of leadership in the state, the ruling Democratic Alliance today elected Naga People's Front (NPF) leader Shurhozelie Liezietsu as its new legislature party leader to be the new Nagaland Chief Minister, an IANS report said today.
Shurhozelie was elected after Chief Minister T.R. Zeliang resigned on Sunday night bowing to the demands of protesting tribal groups opposed to his move to hold civic polls with 33 per cent reservation for women, it said.
"Shurhozelie has been unanimously elected the new legislature party leader of the NPF and also of the government," Nagaland's lone Rajya Sabha member K.G. Kenye told IANS.
"If the Governor (P.B. Acharya) is not leaving Kohima for Arunachal Pradesh, we expect Shurhozelie to be sworn in this evening," he added. Acharya holds additional charge as Governor of Arunachal Pradesh.
News agency PTI, citing its sources in the party, however said that the swearing-in was likely to take place on February 22.
The Governor accepted Zeliang's resignation on Sunday but asked him to continue in office till an alternative arrangement was made.
On February 15, 42 of the 49 legislators unanimously supported Shurhozelie as their new legislature party leader to break the deadlock between the agitating tribal groups and the government.
Shurhozelie has been elected to the Nagaland assembly eight times from Northern Angami assembly constituency. But he did not contest the 2013 election.
For more than two weeks, the government machinery in Nagaland has been in a state of limbo following an indefinite shutdown.
The state Chief Minister TR Zeliang on Sunday announced his decision to step down from the top post.
In a letter to MLAs of the ruling Naga People's Front (NPF), Zeliang said he has decided to resign to break the deadlock between the agitating groups and the government.
"I have decided to step down from office and to select a new consensus leader to succeed me, I hereby call for an emergency meeting of the NPF legislature party meeting at 10 AM tomorrow," Zeliang said in a public statement.
In the 60-member assembly, the ruling Democratic Alliance of Nagaland coalition government comprises 48 NPF legislators, including suspended legislator Imkong Imchen, four Bharatiya Janata Party (BJP) and eight Independents.
Nagaland has been in turmoil since January after the NPF-led government decided to hold local body elections in 12 towns across the state.
Three persons were killed following clashes between police and civilians.
(With agencies)