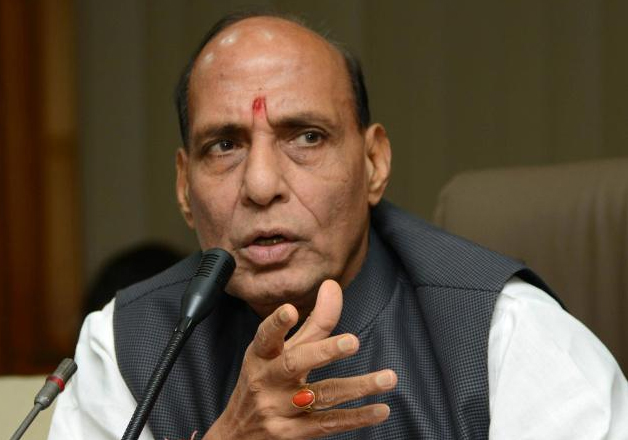 Muslims are not considered the traditional vote bank of the BJP, thus the party has not given ticket to even a single Muslim candidate in Uttar Pradesh which has some 19 per cent population. But senior party leader and Union Home Minister Rajnath Singh feels that the party should have given tickets to minorities in the state.
"We have given tickets to minorities in many other states... Talks must have happened here (in UP) as well... I was not there, this is based on what I have learnt. May be they (BJP parliamentary board) didn't find any (winnable Muslim candidate). But I believe even they (Muslims) should get it," Rajnath told a private news channel on Wednesday.
"They should have been. Whoever deserves must get," he added.
Justifying party's stand on the matter, Rajnath further said that the state committee could not find a winnable Muslim candidate and that ticket distribution was done on the basis of merit and winnablity of candidates.
"May be the state committee didn't get anyone, but had there been (a Muslim candidate), it wouldn't have harmed us. We'll take care and see we can build up minority candidates," he said.
At a rally in Sant Kabirnagar yesterday, the former CM termed the alliance between Samajwadi Party and Congress as a 'thag bandhan' (coalition of 
cheats).
He claimed that 'there is a wave in favour of the BJP and it will make its government after elections'.
Attacking the SP and BSP, he alleged that 'many corrupt leaders are present in both the parties'. 
The BJP, if voted to power in UP, will give loans to farmers for one year at the zero per cent interest, he said. 
A BJP government will also give a package of Rs 20,000 crore for generating employment, Singh said, adding a bond of Rs 50,000 would be given to girl child at the time of birth. 
The politically crucial state of Uttar Pradesh, where elections are to be held in seven-phase, has already witnessed polling on February 11 (73 seats), 15 (67 seats) and 19 (69 seats). The polling percentage in these phases were: 64 per cent, 66 per cent and 62 per cent.
Polling in the four phases across 52 seats in 12 districts is underway. Polling in the remaining three-phase will be held on February 27 (52 seats) and March 4 (49 seats) and 8 (40 seats). Results will be declared on March 11.