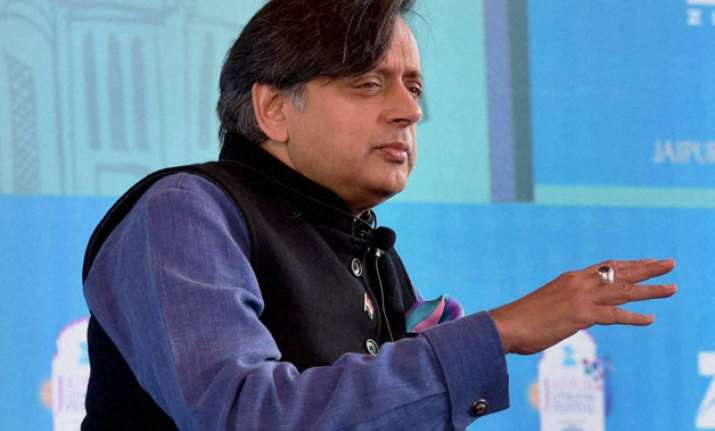 New Delhi: Senior Congress leader Shashi Tharoor stoked controversy for comparing JNUSU president Kanhaiya Kumar, facing sedition charge, to freedom fighter Bhagat Singh.
Addressing JNU students at the campus' Administrative block on Sunday, Tharoor praised the student movement that began on February 9 and congratulated the student body for initiating a dialogue on the 'meaning of nationalism'.
"This university has been at the centre of a very important debate. That debate is about what the idea of India is, and what nationalism means. We must all have a conversation about this, because diversity of opinion and culture is what India stands for," he said in his 40-minute long speech.

 
At one point he said, "Bhagat Singh was Kanhaiya Kumar of his times."
He said people should have the right to choose what they believe is correct and still be tolerant of others' ideas in a democracy.
Tharoor's praise on Kanhaiya Kumar invited sharp reaction from the BJP and Bhagat Singh's family.
BJP leader Shahnawaz Hussain said that the Congress party's support to anti-national element signifies that the grand-old party is frustrated. "The Congress party is nearvous. And they are supporting such people because they fear about the existence now," he said.
Abhey Sandhu, the son of Bhagat Singh's younger brother Kulbir Singh, said, "There is no comparison… the Congress party is doing this to gain political mileage. The motto is clear."
This is not the first time that a political leader visited the JNU after February 9 event that stoked a debate over freedom of expression in the country. Before him, Congress vice-president Rahul Gandhi, Delhi CM Arvind Kejriwal, Left party leaders Sitaram Yechury, D Raja had visit the campus to utilise the opportunity to attack the ruling BJP-led NDA government.
The February 9 event was organised to commemorate the death anniversary of Parliament terror attack convict Afzal Guru. Also at this event, anti-India slogans were raised.
Kanhaiya, who was present at the event, was arrested and later granted 6-month bail. Besides him, two other JNU students Umar Khalid and Anirban were last week too granted 6-month bail by the court.