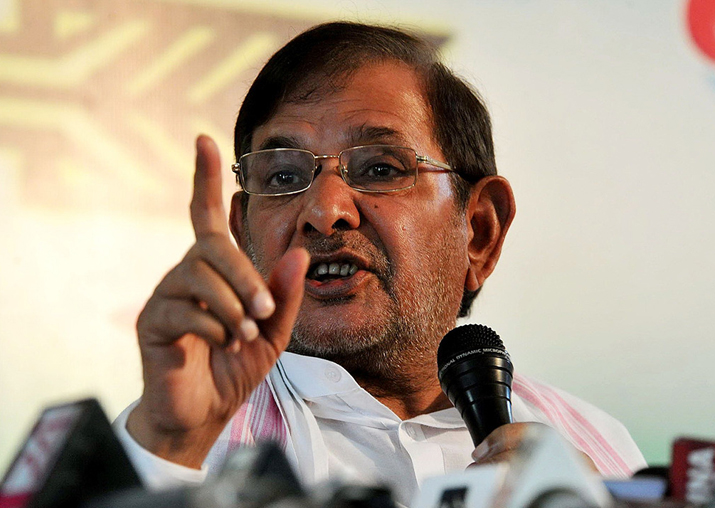 Rebel JD(U) leader Sharad Yadav today announced a nationwide protest by the opposition against the Union government over its decisions to demonetise high-value currency and the trouble faced by traders due to the GST rollout. 
The announcement came a day before Yadav's faction holds its national council meeting, and after they went to the Election Commission to stake claim over the party's symbol. 
Lashing out at the government over demonetisation of high-value currency in November and the Goods and Services Tax rollout, Yadav said both the steps devastated the economy, especially small and medium enterprises. He asserted that the next Lok Sabha election, due in 2019, would be fought on economic issues. 
Quoting socialist stalwart Ram Manohar Lohia, he told reporters that when the government and the parliament were keeping quiet, it was time to increase the political heat on the streets. 
He dismissed as an "eyewash" the changes the GST Council made yesterday to give relief to small and medium businesses, and said they were meant to divert people's attention at a time when anger was building up against the government. 
"The truth is that the kind of 'inspector raaj' we see today has never been witnessed before. Accounting mistakes like filing wrong entries have been criminalised and traders can be jailed... We (the opposition) will soon launch a big nationwide movement," he said. 
Demonetisation has resulted in loss of up to five crore jobs, he claimed, noting that the government had promised to provide two crore jobs annually. 
Yadav said Bihar had seen many small communal incidents during Dussehra and Muharram - "something, that never happened before" - and blamed the BJP for the serious development. 
Claiming that a majority of JD(U) leaders was with their faction, Arun Shrivastav, a close aide of Yadav, said anywhere between 500 to 600 of 1,045 national council members of the party will attend the meeting tomorrow. 
Rajya Sabha member and Kerala JD(U) chief M P Veerendra Kumar will also attend the exercise, he said. He announced that former Bengaluru police commissioner P K Ramaiah, who was present, has joined the party. 
Yadav has come out against Bihar Chief Minister and JD(U) chief Nitish Kumar following Kumar's decision to ally with the BJP. His faction has also moved the EC to demand that it should be recognised as the JD(U) and given its election symbol. The EC has asked it to submit evidence to support its claim. 
The Kumar-led party has dismissed Yadav faction's claim and is said to have submitted affidavits of most of its MPs, MLAs and office-bearers, affirming their support to the Bihar CM. 
Yadav also termed the National Green Tribunal's order to ban protests at the Jantar Mantar as "unjust" and said the alternative venue, Ramlila Maidan, was in a populated area which makes public protests there difficult. 
He also said its order asking spiritual guru Sri Sri Ravi Shankar to pay damage for harming Yamuna flood plains has not been obeyed.