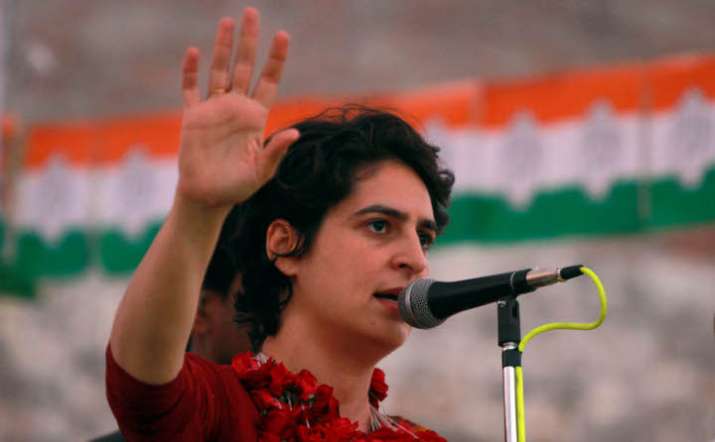 In what could be termed as a major blow to the Congress party ahead of Uttar Pradesh assembly polls, party core leaders are supposed to have turned down poll strategist Prashant Kishor's proposal that Priyanka Gandhi campaign for around three months in poll bound state, a Times of India report said on Monday.
The refusal has plunged the party into confusion over its next course of action as its managers are racking their brains over how to retrieve the momentum that was created by Rahul Gandhi's 26-day "Delhi to Deoria" yatra.
Earlier on October 24, Priyanka Gandhi for the first time participated in a strategy session of Congress leaders from the poll-bound state.
Priyanka's participation in the meeting was a signal of her taking on a more active role in Uttar Pradesh where the Congress faces a tough political battle.
Priyanka Gandhi has so far confined her electoral campaigning to constituencies of her mother and Congress president Sonia Gandhi and her brother Rahul Gandhi in Rae Bareli and Amethi respectively.
But, following this report it would be now interesting to see how the Congress, who has been out of power in UP for over three decades, could take their campaign further in state as 'utter confusing' has gripped the party.
"Utter confusion has gripped in the party for 10 days, with few ideas on what can match and further the initial blitz of conventions and roadshows by Rahul and Sonia," a key party manager told TOI.
According to the reports, there has also been considerable distancing between party strategists and Prashant Kishor, who had been hired to manage the election campaign for the party in Uttar Pradesh and Punjab.
Congress had earlier projected Shiela Diskhit as its chief ministerial candidate. The party had also appointed actor-turned-politician Raj Babbar as the party president in Uttar Pradesh, replacing Nirmal Khatri.
Apart from out of power in Uttar Pradesh for over three decades, the Congress party has also not won any major state assembly poll since its debacle in the 2014 Lok Sabha elections.