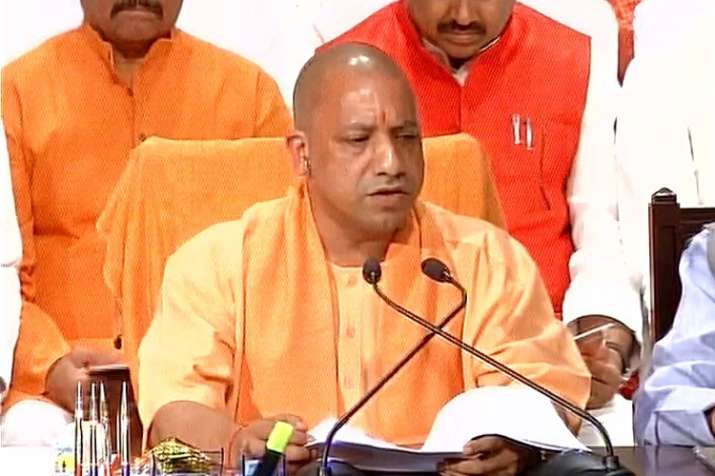 Uttar Pradesh Chief Minister Yogi Adityanath on Tuesday addressed a press conference in Lucknow after his government completed 100 days in office on Monday.
CM Adityanath unveiled a booklet named "100 din vishwas ke" highlighting his government's achievements in the last 100 days. 
#WATCH UP CM Yogi Adityanath addresses the media on 100 days of UP govt https://t.co/WAwZF20ZYF

— ANI (@ANI) June 27, 2017
"We are satisfied with the work we have done in the first 100 days of our government. This govt is working for all sections of society without any discrimination," said CM Yogi. 
He also announced that every year, January 24 will be celebrated as 'Uttar Pradesh Day'. 
In a veiled attack at the erstwhile Akhilesh Yadav-led Samajwadi Party and Mayawati-led Bahujan Samaj Party governments, CM Adityanath said that casteism and dynasty politics had halted the state's development in the last 14-15 years. 
Praising his government's decision of waiver of farm loans to the tune of Rs 30,000 crore, he said, "loan waiver did not affect the development works, instead it benefited 86 lakh peasants of Uttar Pradesh".
"Waving off farmer loans did not affect the developmental works in the state. Loans worth Rs. 22,000 crore were waived for sugarcane farmers. It's our aim to protect farmers, we're buying five times more wheat from them," he said.
Pledging to achieve Open defecation free status, the Uttar Pradesh Chief Minister said that every household in the state would have toilets by 2018.
Adityanath further said that his government has asked the Centre for a 24-hour power supply for all villages in the state.
Talking about the anti-romeo squad, which drew criticism from different parts of society and politics, CM Adityanath said that its formation has led to women in the state feel much safer. 
Yogi said that his government hopes to fulfil the dreams of late Deendayal Upadhyaya, adding that it is buying five times from wheat from the farmers to protect them.
After taking charge of office on March following a thumping victory in the Assembly elections, the Yogi Adityanath-led BJP government is the state organised a low-key anniversary with no big event to showcase its achievements.