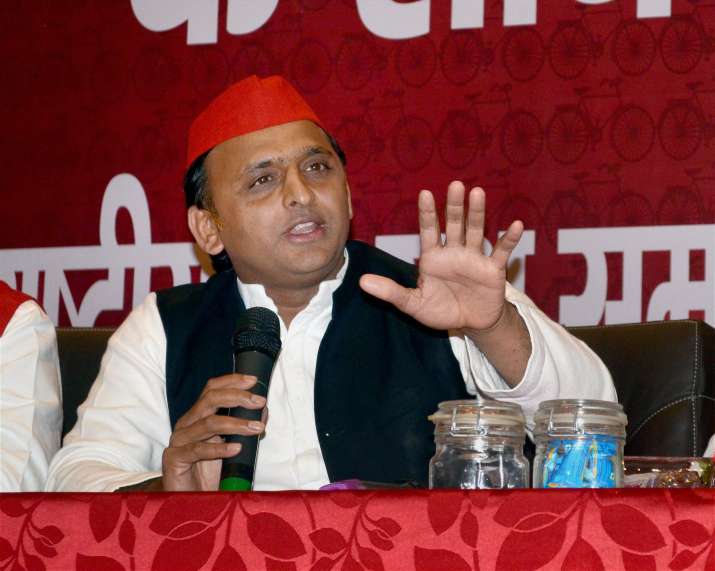 Former Uttar Pradesh Chief Minister Akhilesh Yadav was on Thursday re-elected as the Samajwadi Party's national president for five years at the party's national convention here. The party also amended its constitution extending national president's tenure to five years. An extension of the term to five years would mean that the party will contest the 2019 Lok Sabha and state Assembly elections in 2022 under Akhilesh's leadership. 
The state president's tenure has already been extended by a similar period by the state executive and Naresh Uttam was unanimously re-elected to the post for five years. 
Besides Akhilesh's election for the post of the SP national president, the other highlights of the SP's 10th national convention will be passage of political and economic resolutions, SP sources said. 
All eyes are on whether SP patron Mulayam Singh Yadav attends the event, especially in the light of his son Akhilesh meeting him personally in Lucknow last week to extend an invitation. 
"I have personally invited him and seek his blessings again," Akhilesh said yesterday. 
While Akhilesh (44) has maintained that he enjoyed the blessings of his 77-year-old father, Mulayam on his part said last week, "My blessings are with him (Akhilesh Yadav) as he is my son, though I don't agree with his decisions." 
"Baap bete me kab tak matbhed rah sakta hai, koi nahi keh sakta" (No one can say for sure how long differences will remain between father and son)," he had said. 
Mulayam had ruled out forming any new party "as of now", putting a lid on speculation that ahead of the SP national executive meeting he could part ways with the party he had formed 25 years ago amid the continuing battle for supremacy in the party. 
Akhilesh, who is involved in a feud with Shivpal Yadav, said his estranged uncle blessed and congratulated him during a phone conversation yesterday.
Addressing a press conference a day ahead of the two-day national convention, the former UP chief minister was asked about reports that his uncle had called him up. 
"I got the benefit of my age and our relation. He (Shivpal) gave me blessings and congratulated me also," Yadav said. 
He had recently dropped hints that there was no likelihood of any reconciliation with his warring uncle when he cautioned partymen to beware of "fake samajwadis". 
"Beware of 'banawti' (fake) samajwadis. They have tried to stop the samajwadi andolan (socialist movement) many times. They succeeded in one conspiracy as a result of which we could not form government again in the state. 
"But it has opened the eyes of samajwadis. Now they will not succeed," he had recently said in Lucknow in an apparent attack on Shivpal, though he did not take his name. 
Both Mulayam and Shivpal have been sidelined by Akhilesh ever since he snatched the crown of SP chief from his father at the party's national convention here on January 1. 
Shivpal had announced in June that he would float the Samajwadi Secular Front "to fight communal forces". 
In a series of tit-for-tat actions, Mulayam had last month replaced Akhilesh-loyalist Ram Gopal with Shivpal Yadav as the secretary of the Lohia Trust. 
Taking full control of the party after being crowned as its head and alloted the 'bicycle' symbol by the EC on January 16, Akhilesh has been going full throttle consolidating his grip over the party. 
The key Lok Sabha by-elections to be held in Gorakhpur and Phulpur (the seats vacated by Chief Minister Yogi Adityanath and his deputy Keshav Prasad Maurya) will give the SP a chance to gauge which way the wind is blowing months after it faced a rout in the Assembly polls. 
The upcoming bypolls might come up for discussion at the Agra meet, an SP insider said, adding the two elections were of special significance. 
Akhilesh has already said if results of the elections were in "our favour, it will give a message not only for the 2019 (Lok Sabha polls), but also for the 2022 (assembly polls)."
(With PTI inputs)