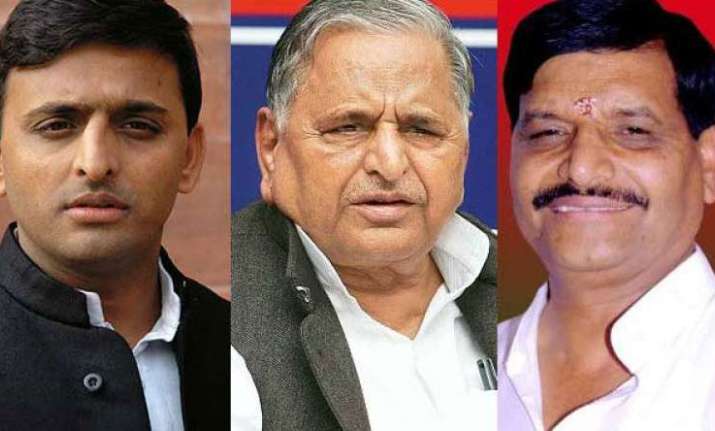 With the family feud turning into a high voltage drama at the party meeting at SP office in Lucknow, Uttar Pradesh Chief Minister offered to step down rubbishing reports that he was considering to float his own party. However, Shivpal yadav countered Akhilesh's claim saying the UP CM himself has told him that he will form a new front, if necessary.
Torn between his loyal brother and son, Mulayam asked the duo to sort out the differences but snubbed Akhilesh saying that CM's post has gone into his head and warned him to mend his ways.
Here are the crucial comments made by the three leaders.
Mulayam Singh Yadav
*If you wanted to voice concerns,you should have sent a note.Mulayam on letter war.
*I can't leave Amar Singh or Shivpal Yadav. All of Amar Singh's sins are forgiven.He helped us in difficult times.
* Look at PM Modi, he became PM with dedication & struggle. He comes from a poor family, says he can't leave his mother.
* If you can't face criticism, you can't be a leader.
* Jo bahut ucchal rahein hai agar baat aayi to ek laathi bhi nahin seh paaenge
*I feel really sad because of this rift in our family.
*We have worked really hard to form this party. Instead of fighting our weaknesses we are fighting among ourselves.
*Some ministers are busy in being sycophants. Those who can't think big cannot be ministers.
ShivPal
*Indiscipline will not be tolerated in this party. This party has reached such heights only because of Netaji.
*Akhilesh Yadav  had said to me that he will form another party & enter an alliance ahead of UP polls.
*Everyone in SP needs to dedicate themselves to winning the 2017 UP elections.
* Amar Singh Ke pairon ki to dhool bhi nahi ho tum log." I never hid and met Singh. I remained in touch.
* I called MLAs & Ajit Singh to ensure RS & MLCs won.CM didn't make any calls
*We can not tolerate liars in SP, we just can't
*People who work to weaken Samajwadi Party, who work against us...they should know we will form government again with Netaji's sweat and blood.
Akhilesh
*People may raise finger at me. But I have been true to Netaji's ideals.
* Mera kuch bhi nahi hai party mein. Main netaji ka beta hoon
*People are saying a new party will be formed. Who is forming is a new party? I am not. All along, I've worked for the people's welfare.
*Some people are trying to create a rift in the party... This is a conspiracy against me.
*If I have to take action against those who are conspiring against Netaji and us, I will take action.
*I would have resigned if Netaji would have asked me to.
*I was hurt when Amar Singh said that by November Akhilesh will not be CM in UP. Ram Gopal ji didn't say that.