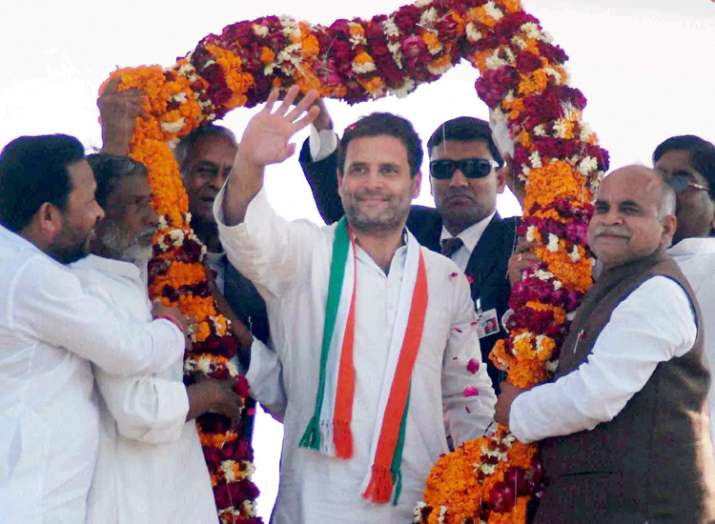 In a scathing attack on Prime Minister Narendra Modi, Congress vice president Rahul Gandhi today claimed that the coming together of Samajwadi Party and Congress for the Uttar Pradesh Assembly polls has wiped the smile off PM's face. 
"Earlier Prime Minister used to be in a good mood but ever since Congress and SP have formed an alliance, he has lost the smile on his face," he said. 
Rahul, an MP from UP's Amethi, also took a dig at Modi's "adopted son of Uttar Pradesh" remark. 
"In 2014 Modi said 'Ganga maiya has called her son to Varanasi'. He said Varanasi was his mother and he was the son of Varanasi...Modiji, relations are nurtured and not claimed," he said at an election meeting here. 
"Modiji if you have made relations with the people of UP you will also have to maintain them," he said. 
Referring to waiving of farmers' loans worth Rs 7,000 crores by the UPA government led by Manmohan Singh, Rahul said, "If Modi has to take a similar step, he should convene a Cabinet meeting and can do it in five minutes. But his intentions are not noble." 
Continuing his tirade against the Prime Minister, Rahul said, "Whenever Modi gets afraid, he starts spreading hatred." 
"Elections keep coming and it is for the people to decide whom they want to vote ...UP does not want to get divided... it is made to fight each other ...UP wants employment and development," he said at Raebareli. 
The Congress leader also hit out at the PM for "going back on his promise as none of the poor have got the promised Rs 15 lakhs in their accounts." 
"Instead, he made the common people stand in queues by bringing note ban and putting them to hardships," he added. 
(With PTI inputs)