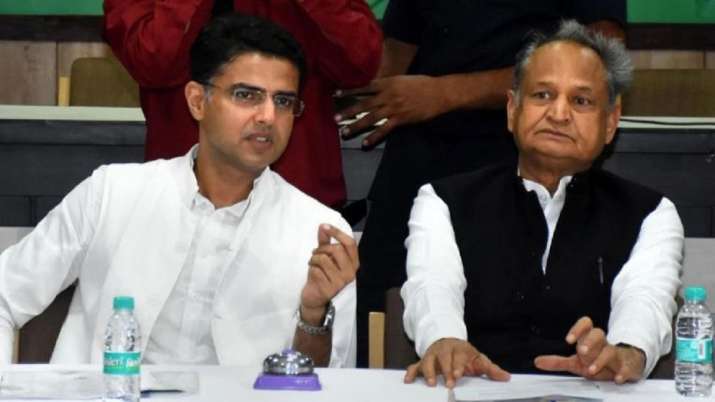 India's grand old party - the Congress party led by Sonia Gandhi - is in crisis. This time the crisis has unfolded in Rajasthan, where Deputy Chief Minister Sachin Pilot has rebelled against Chief Minister Ashok Gehlot. During a late-night Sunday briefing, Pilot, who is camping in Delhi, the ruling Congress, claimed the support of 109 MLAs to back the state government led by Gehlot. 
Meanwhile, the Congress Legislative Party issued a whip to its MLAs for a Monday meet in Jaipur. However, Sachin Pilot, who is also the state Congress president, skipped the Rajasthan Legislature Party meet. In the 200-member Rajasthan Assembly, the Congress has 107 MLAs and the BJP 72.
Rajasthan Political Crisis: How sequence of events unfolded on July 13
10:05 pm: I consider Sachin Pilot one of the most talented, competent & impressive Congressmen we have. He is a friends also. We all value him in the party. He should come & air his grievances, floor is open. All people are prepared to listen to him. He may have genuine grievances but where I draw a red flag is that if you try to topple a govt or hurt your own Congress party. I think everything except that red flag is accepted in party. It's a capacious party. I urge, request, beg him to exercise that right: Abhishek Manu Singhvi Singhvi
9:00 pm: Randeep Surjewala says -- "With a majority of 109 for the Congress Government in Rajasthan under Ashok Gehlot, all our MLAs gave their support letter. They have failed BJP's attempts. To discuss political situation another Congress Legislative Party (CLP) meet will be held here at 10 am tomorrow. We request Sachin Pilot & all MLAs to come, we'll also give them in writing. We've requested them to come & discuss the situation. They're requested to come & discuss how to strengthen Rajasthan & serve the 8 crore people together. If there are some differences with someone then they should say that that with an open mind. Sonia Gandhi & Rahul Gandhi are ready to listen to everyone and find solution."
7:00 pm: 2 Bhartiya Tribal Party MLAs asked by leadership to refrain from supporting Gehlot or Pilot. Disciplinary action will be taken against the members if they go against the party, a notice addressed to them said.
6:44 pm: Visuals of MLAs Madan Prajapat, Amit Chachan, Ganesh Ghogra, and others, inside Fairmont hotel.
#Rajasthan : Congress MLAs taken to Hotel Fairmont in Jaipur after the Congress Legislative Party (CLP) meeting at Chief Minister Ashok Gehlot's residence earlier today. Visuals of MLAs Madan Prajapat, Amit Chachan, Ganesh Ghogra and others, inside the hotel. pic.twitter.com/0xSXDhNhbo

— ANI (@ANI) July 13, 2020
6:00 pm: I am with Sachin Pilot, Rajasthan Cabinet Minister Ramesh Meena tells ANI.
5:30 pm: Sachin Pilot is not joining BJP, sources tell news agency ANI. "Ashok Gehlot govt doesn't have numbers they claim. CM's back garden isn't the place to prove the majority, it's done in Assembly. If they have numbers as claimed then why not do a headcount, take them to Guv instead of moving them to the hotel," sources said.
4:20 pm: Chidambaram, KC Venugopal speak with Sachin Pilot. According to sources, Pilot has put forward certain conditions. 
4:00 pm: Congress MLAs brought to Hotel Fairmont on buses. They had attended Congress CLP meeting at CM Ashok Gehlot's residence.
03:40 pm: Resolution passed at CLP meet -- This ripping off of democracy by BJP is an insult to 8 crore people of Rajasthan, they'll not accept it. CLP meet expresses its confidence in Congress Pres Sonia Gandhi & leader Rahul Gandhi, & unanimously supports the govt led by Ashok Gehlot. This meet urges that strict disciplinary action be taken against any office bearer or member of Legislative Party who indulges in activities against the Congress govt, party or gets involved in any conspiracy. 
03:18 pm:  Buses, carrying MLAs, leave from the residence of Chief Minister Ashok Gehlot after the Congress Legislative Party (CLP) meeting concluded. One of the MLAs says, "All is well."
#Rajasthan : Buses, carrying MLAs, leave from the residence of Chief Minister Ashok Gehlot after the Congress Legislative Party (CLP) meeting concluded. One of the MLAs says, "All is well." pic.twitter.com/shZGBXlHQN

— ANI (@ANI) July 13, 2020
02:25 pm: Rajasthan: Chief Minister Ashok Gehlot, Congress leaders and party MLAs show victory sign, as they gather at CM's residence in Jaipur
#WATCH Rajasthan: Chief Minister Ashok Gehlot, Congress leaders and party MLAs show victory sign, as they gather at CM's residence in Jaipur.

The Congress Legislative Party meeting has begun. pic.twitter.com/FowLM7CAGA

— ANI (@ANI) July 13, 2020
12:32 pm: Sachin Pilot's posters removed from outside the state headquarters premise in Jaipur
12:03 pm: Rajasthan government chief whip Mahesh Joshi condemns the income tax raids on premises linked to two Congress leaders. "I condemn this. The raids are uncalled for and intended at threatening but we are not going to be distracted or scared by this. Entire country is watching this," Joshi said
12:00 pm: Randeep Singh Surjewala addresses press conference ahead of Congress Legislative Party meet
#WATCH LIVE - Congress holds press conference from Jaipur. #Rajasthan https://t.co/1nd72KiMti

— ANI (@ANI) July 13, 2020
11:56 am: If anyone, be at any post or profile, has any problem, they must come forward and mention the issue on the party forum. We will work to resolve it together and keep our govt intact in the state: Surjewala
11:55 am: Over the last 48 hours, Congress leadership has spoken to Sachin Pilot a number of times about the present political situation (in Rajasthan), says Surjewala
11:52 am: I appeal to all Congress MLAs that people have voted for Congress to lead a stable govt in the state, so all MLAs should take part in the Congress Legislative Party meeting today and make our govt in the state stronger, says Surjewala 
11:49 am: Addressing the press conference, Surjewala appeals to all MLAs to attend the Congress Legislative Party meeting
11:47 am: Randeep Singh Surjewala addresses press conference
11:04 am: Over 90 MLAs reach Rajasthan Chief Minister Ashok Gehlot's residence in Jaipur, for Congress Legislative Party meeting
10:57 am: Sachin Pilot is now in Bharatiya Janata Party. Everyone knows BJP's attitude towards Congress party. We don't need a certificate from BJP. In Congress Party, all leaders and workers are respected, says AICC general secretary in-charge of Chhattisgarh, PL Punia
#WATCH Sachin Pilot is now in Bharatiya Janata Party. Everyone knows BJP's attitude towards Congress party. We don't need a certificate from BJP. In Congress Party, all leaders and workers are respected: AICC general secretary in-charge of Chhattisgarh, PL Punia pic.twitter.com/kQNd77J2cK

— ANI (@ANI) July 13, 2020
10:52 am: Congress Legislative Party meet now to begin at 11 am
10:43 am: Sachin Pilot is now in BJP, says Chattisgarh Congress In-charge PL Punia
10:38 am: Income Tax Department conducting raids at multiple locations across Rajasthan, including office and residence of Congress leader Dharmendra Rathore and one Rajiv Arora, a member of State Congress Office
10:25 am: People of Rajasthan had given an opportunity to Congress to form govt in the state, they should have used it properly. CM should have kept his govt intact, but he is not able to do it. His party MLAs are not happy with him, says BJP's Om Mathur
10:11 am: Senior Congress leaders are calling MLAs personally to have full attendance during the meet. The party has dispatched two leaders from Delhi, Ajay Maken and Randeep Singh Surjewala, to report back the exact situation to the party high command
10:06 am: Everyone will be attending the CLP meeting today, says Congress MLA Mahender Chaudhary. Watch
#WATCH Hum toh narazgi hi nahi maante kisi prakaar ki. Everyone will be attending the CLP meeting today: Congress MLA Mahender Chaudhary, on being asked if Sachin Pilot will be attending the Congress Legislative Party meeting today. #Rajasthan pic.twitter.com/11xHYBHz4R

— ANI (@ANI) July 13, 2020
9:59 am: BJP will not be successful in its attempts to topple Congress govt in Rajasthan. All our Congress MLAs and our alliance MLAs are with Chief Minister Ashok Gehlot; all of them will be attending the meeting of Congress Legislative Party today, says Congress MLA Mahender Chaudhary
09:47 am: As suspense situation prevails on what next for Ashok Gehlot government, some news channels have reported that Sachin Pilot said he is not going to join the BJP. However, reports also say that Pilot is expected to meet Amit Shah
09:40 am: Congress President Sonia Gandhi has specially assigned me a work saying that if any Congrees MLA or any alliance MLA have any problem or want to discuss their problem, they can come and talk to me and we can work on it, Rajasthan Congress in-charge Avinash Pandey has said
09:18 am: Security tightened outside residences of 10 Independent MLAs
09:12 am: Jaipur: A meeting of Congress Legislative Party scheduled to be held at Rajasthan Chief Minister Ashok Gehlot's residence today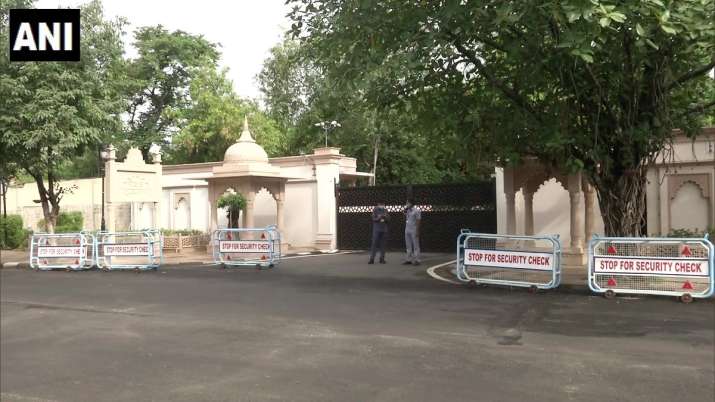 09:01 am: Congress leader KC Venugopal to reach Jaipur today, to attend the Congress Legislature Party meet
08:18 am: Rajasthan Deputy Chief Minister and Congress leader Sachin Pilot's office has been reportedly sealed after two employees of the department tested positive for COVID-19
03:27 am: "Is he in Delhi?" asks Avinash Pande on being asked if he met Sachin Pilot in Delhi
#WATCH: Is he in Delhi? I didn't know about it: #Rajasthan Congress in-charge Avinash Pande on being asked if he met Sachin Pilot in Delhi, after arriving at Jaipur Airport late last night (12.07.2020) pic.twitter.com/FrDX4gY2Pr

— ANI (@ANI) July 12, 2020
02:48 am: A whip has been issued to all party MLAs to be mandatorily present at Congress Legislature Party meeting to be held tomorrow morning. Strict disciplinary action will be taken against any MLA who is absent without mentioning personal/special reason: Rajasthan Congress in-charge Avinash Pande 
02:42 am: "109 MLAs have signed a letter expressing their trust and support to govt led by CM Ashok Gehlot and leadership of Sonia Gandhi ji and Rahul Gandhi Ji. Few more MLAs had a telephonic conversation with CM and they'll also sign a letter of support till morning," says Rajasthan Congress in-charge Avinash Pande 
02:41 am: "The ruling party first bought MLAs in Madhya Pradesh and now in Rajasthan. everyone has to understand that the crisis is not just on one state but the entire democracy," Randeep Singh Surjewala has tweeted
कोरोना से पूरा देश त्रस्त है,
प्रतिदिन संक्रमण बढ़ कर 29,000 हो गया है,
चीन ने हमारी सरज़मीं पर क़ब्ज़ा किया है,
और
सत्ताधारी पहले मध्यप्रदेश और अब राजस्थान में विधायक खरीदने में व्यस्त है।

समझना ये है हम सबको कि -
संकट किसी राज्य पर नहीं,
पूरे भारतीय लोकतंत्र पर है।#Rajasthan

— Randeep Singh Surjewala (@rssurjewala) July 12, 2020
02:34 am: A clearer picture is likely to emerge over the next two days when Pilot comes out from his self-styled incommunicado status
02:29 am: Amid the raging political crisis in Rajasthan and a catalog of speculation, sources aware about the developments revealed that the Rajasthan's Deputy Chief Minister and state Congress President Sachin Pilot will not join the Bharatiya Janata Party