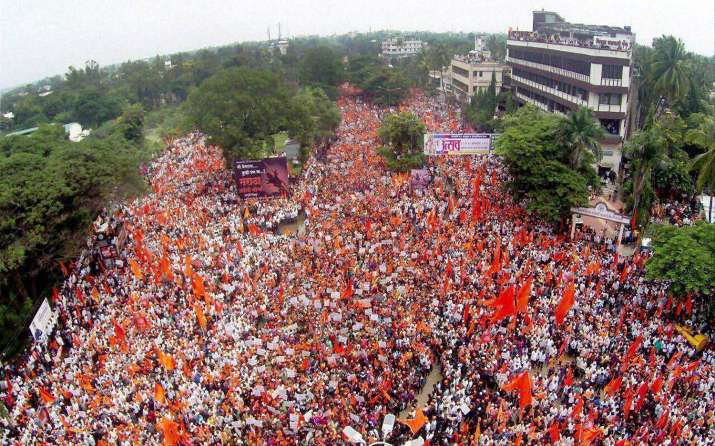 The man, whose cartoon in Shiv Sena's mouthpiece Saamana has stirred a huge controversy, has apologised for offending and hurting the sentiments of Marathas.
"I'm an artist not a political caricaturist," said Sriniwas Prabhudesai, who has clarified his stand in a column in Saamana as well.
He also said that the cartoon is being blown out of proportion and that he did not intend to offend or hurt the Marathas
A cartoon published in the Saamana on Sunday mocking the ongoing statewide stir by Marathas for reservation flared up the sentiments of the powerful community which forms as much as a third of the state's population.
Playing with words, the cartoon has twisted the word "mook morcha "(silent rally) to "Mooka Morcha" (kiss rally).
Showing a couple kissing amidst a rally, the cartoon suggests that some people have deciphered a different meaning of the rally. However, the intended pun didn't go down well with the protesters as well as other political parties.
The cartoon has caused anger amongst the Maratha community who have launched a large movement demanding affirmative action policies.
The cartoon has also reportedly upset a section of Sena leaders who are Marathas and had threatened to resign but have been persuaded not to by the party's top bosses.
A group of people belonging to the Sambhaji Brigade pelted stones at the Saamana printing press in Navi Mumbai while some other persons threw ink outside the Thane office of the Shiv Sena mouthpiece on Tuesday, an official said here.
Navi Mumbai Police Commissioner Hemant Nagrale said some persons attacked the Marathi publication's offices in Saanpada suburb with stgones, shattering two or three glass windows on the outer wall.
"Investigations will be conducted and appropriate action taken against the accused," Nagrale told media persons.
In adjoining Thane town, some persons threw ink outside the office of Saamana, the mouthpiece of the Shiv Sena, a BJP ally in both the central and Maharashtra governments.
A letter thrown by suspected attackers in Saanpada, purportedly on a letterhead of the Sambhaji Brigade, Mumbai office, claimed responsibility for the attack, though an official confirmation is awaited.
The Maratha community has taken strong objection to what it alleged were snide comments made in the Saamana cartoon.
In the past fortnight, nearly a score of huge, peaceful marches by the Maratha community, with at least one in Pune attracting over a million participants, have stirred the political cauldron over reservation in Maharashtra.
The police have beefed up security at the head offices of Saamana and its sister publication and Hindi daily Dopahar ka Saamana in Dadar and other branch offices in the state following the attacks.