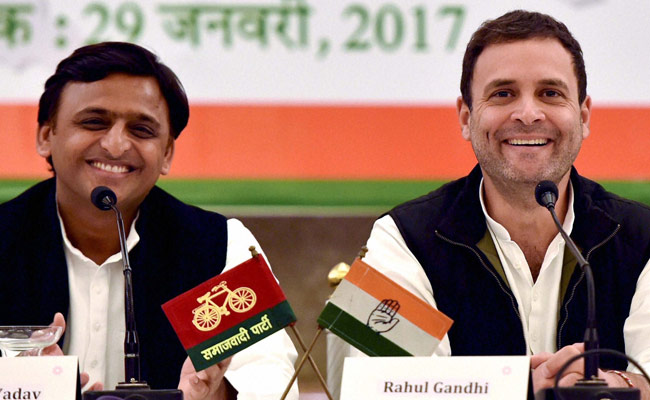 As Samajwadi Party-Congress coalition failed to prove themselves in assembly elections in Uttar Pradesh, people on Twitter blasts with their hilarious comments and memes.
Proving wrong fears of a hung assembly, the BJP was set to sweep back to power in Uttar Pradesh on Saturday after 15 long years, giving Prime Minister Narendra Modi his biggest victory after the 2014 Lok Sabha polls.
The BJP scripted a historic win in Uttar Pradesh, emerging as the single largest party with win in over 300 seats. Meanwhile, in Uttarakhand, the party defeated Congress led by Harish Rawat, winning 55 seats. 
Congress, however, managed to make a comeback with Captain Amarinder Singh at the helm in Punjab. While Goa and Manipur are heading towards a hung assembly. 
Have a look at people's epic reaction on assembly election results: 
Haha!!! Epic one #ElectionResults pic.twitter.com/qcSbtQSv51

— Mastikhor (@MashtiKhor) March 11, 2017
Those Who Have 'Illusion' That 2014 Was The Peak Of Modi Wave They r Terribly Wrong
It Was Just The Beginning Of Modi Era #ElectionResults pic.twitter.com/84YQtWCwd8

— susmita chakraborty (@sush091979) March 11, 2017
Indians who scored 300:
- Sehwag in Chennai
- Sehwag in Multan
- Karun Nair in Chennai
- Modi in UP#ElectionResults

— Chinu Sharma (@chinusharma25) March 11, 2017
#Congress and SP after #ElectionResult2017 @PMOIndia @narendramodi @AmitShah @arunjaitley @BrainandMoney pic.twitter.com/ytY0TSqWSP

— Dr.Anirudh Sethi ,PhD (@Iamanirudhsethi) March 11, 2017
It's "Hand", That Always Applies Brake On "Cycle". Proved Yet Again#Elections2017 #ElectionResults #UttarPradesh #Mayawati #UPElection2017 pic.twitter.com/AofyWJtpOg

— Sir Ravindra Jadeja (@SirJadeja) March 11, 2017
Kejru's Reaction On BJP (Modi)'s Landslide Victory In #UPElection2017
#ElectionResults #StoriesWeLove #Elections2017 #Punjab #Uttarakhand pic.twitter.com/1eJC02Sdim

— Sir Ravindra Jadeja (@SirJadeja) March 11, 2017
#NayiSoch nai #Politics of #arvindkejriwal is completely #failed & #people of #delhi will #show it in #MCD #Elections2017 pic.twitter.com/tueUUhiMYG

— Pankaj Jain (@Jainpankajkasan) March 8, 2017
#ElectionResults pic.twitter.com/R736nqDjOk

— ठरकी ट्वीटरियाँ (@Bigtharki) March 11, 2017
Who did this? 😂😂#ElectionResults #Elections2017 pic.twitter.com/Xzik3armCU

— Writer Thakur (@IndianWriterV) March 11, 2017