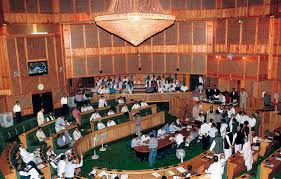 The first day of the budget session of the Jammu and Kashmir assembly started off on a stormy note with the Bharatiya Janata Party (BJP) alleging that the opposition party insulted the National Anthem while chanting slogans and disrupting the house.

 

Govenor NN Vohra who was scheduled to address the assembly today was interrupted by members of the opposition parties who stood up shouting slogans against the PDP-BJP government for the continued unrest in the state.

 

When it seemed that order would not be restored, the Governor made a hasty retreat.

 

"The National Conference (NC) and the Congress created a ruckus in the J&K assembly even when the national anthem was (being) played; even the governor walked away. This is a grave insult," BJP MLA Ravinder Raina said.

 

The BJP MLA has demanded that the NC, Congress and Governor apologise for insulting the national anthem.

 

"Congress would play the role of vibrant opposition in both the Houses and make the government accountable on all commitments made by the two coalition partners, as well as its total failures on almost all fronts," J&K Congress chief Gulam Ahmed Mir had said yesterday.

 

While commenting on the disruptions, BJP minister Naeem Akhtar said that shouting slogans is not productive, and that maybe that was all that was left for the opposition to do.