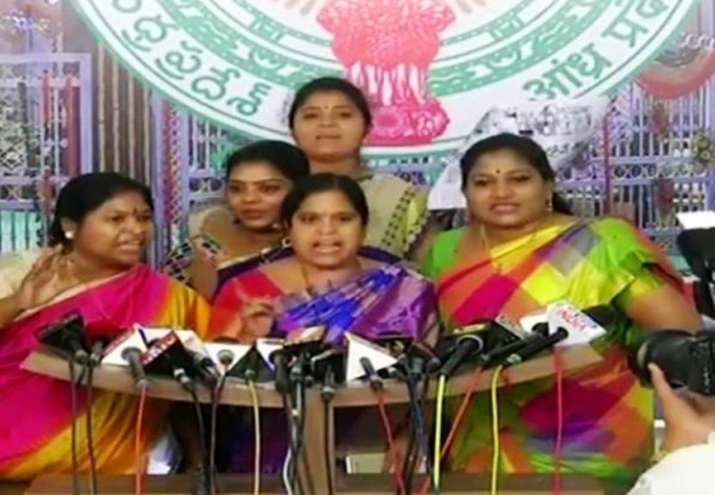 Women legislators of the ruling Telugu Desam Party (TDP) and the Opposition YSR Congress in Andhra Pradesh nearly came to blows in the premises of the legislative assembly here on Tuesday.
Heavy pushing and jostling ensued between the two groups as they tried to snatch mikes from each other.
According to media reports, trouble broke out when YSR Congress member G. Eshwari was addressing mediapersons over the increasing atrocities on women in the state and TDP's V. Anitha tried to stop her. 
It soon turned into a heated argument between the two. Minutes later, Minister for Women Welfare P. Sujata and other TDP members reached there. 
Eshwari remained unperturbed and continued to speak and criticise the government. Failing to stop her from speaking, Sujata pulled the podium with several TV channel mikes on it towards her
YSR Congress members also intervened and resisted the attempt by TDP members.
The situation soon became tense as the two groups pushed each other and almost came to blows. The situation was pacified after the intervention by assembly security personnel. 
Eashwari alleged that the ruling party was resorting to high-handedness and not allowing them to speak both in the assembly and outside. 
TDP member Anitha alleged that it had become a habit for the opposition members to indulge in rude behaviour.
The women legislators of both parties had been involved in bitter spats.
There was sharp exchange of words between YSR Congress member R.K. Roja and TDP's Sunitha during the assembly session last year. Sunitha had alleged that the actress-turned-politician abused her.
The Privileges Committee of the assembly, which probed the incident, last week recommended that Roja be suspended from House for one year.
(With IANS inputs)