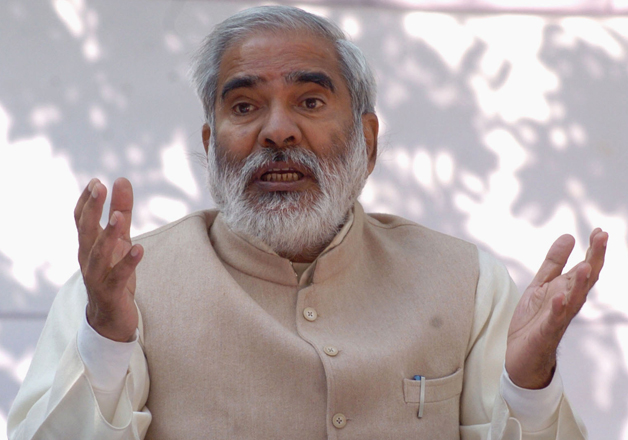 RJD vice-president Raghuvansh Prasad Singh on Tuesday snubbed Lalu Prasad Yadav's declaration that 'Nitish Kumar is still the leader of Mahagathbandhan govt' and said that in a 'democracy everybody has right to express his/her view'. 
Speaking to media here soon after Lalu broke his silence over the controversy that erupted after Mohammad Shahabuddin's remark questioning Chief Minister Nitish Kumar's leadership, Singh said that "Laluji ignores JD(U) spokespersons' statements when they use abusive words".
"This is dictatorship. But I tell you we will not sit silently, we are living in a democratic country. It has become JD(U) spokesperson's duty to abuse others. Laluji doesn't read their statements. He (Lalu) speaks out of decorum. They (JDU) have hired people who use abusive words in their language. There is no forum of the gathbandhan (alliance) where we can express our views," he said. 
The rift within the Mahagathbandhan started after Raghuvansh and former MP Mohammad Shahabuddin took jibes at Nitish Kumar, calling him 'Chief Minister of circumstances'.
Raghuvansh has on many occasions invited embarrassment for his party by attacking Nitish, who has now come under severe criticism from the opposition over the bail granted to RJD strongman Shahabuddin. 
Raghuvansh also backed Shahabuddin's lack of faith in Nitish's leadership remark, saying he did not agree with his appointment to the top post but obeyed the decision of the Grand Alliance.
Lalu, however, yesterday rubbished all reports that the rift between RJD-JD(U) has widened and termed it a 'media turmoil'. His reaction came after the JD(U) appealed to Lalu to restrain senior leaders of his party from speaking out publicly against Nitish.
When asked about Congress party's challenge to the RJD to quit the Grand Alliance, Raghuvansh said, "Is Congress party the head of alliance? The Congress is the third alliance partner."
The Congress had on Tuesday said that repeated attacks on Nitish by the 'Mahagathbandhan' leaders would demean the aura of the Chief Minister and in turn benefit the BJP.
Bihar Congress chief Ashok Choudhary had said that if there is a problem with or complaint against Nitish Kumar, the RJD is free to exit the Grand Alliance-led-government.
Meanwhile, the JD(U) today said that there is no need to worry on the bond shared between Lalu and Nitish as both of them are mature leaders.
"There is no need to worry. Both Lalu Prasad Yadav and Nitish Kumar are matured leaders. Everyone will become calm after giving statements. No one should worry about it. Nitish Kumar won't compromise on Bihar's law and order situation. Few people are doing this to come in the limelight...but this has no importance," party leader Ali Anwar said.