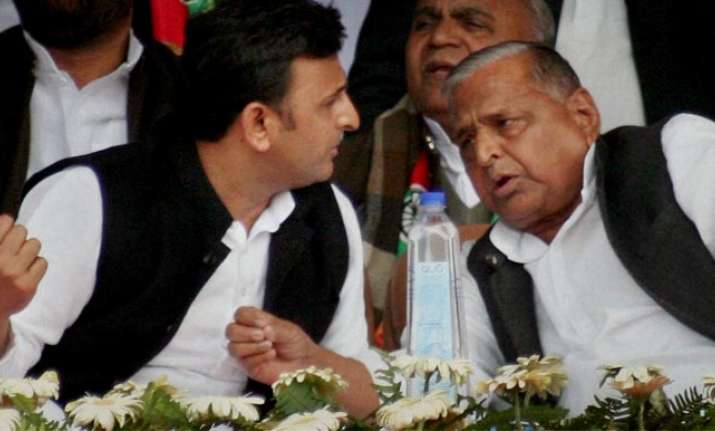 Even as the ongoing tussle between Uttar Pradesh Chief Minister Akhilesh Yadav and his uncle and minister Shivpal Yadav have sent flutters down the power corridors, there is more to the issue than what meets the eye.
Yesterday, in what is believed to be a vieled attack on Amar Singh, Akhilesh yadav said that it is impossible to run the party if outsiders interfere.
Interestingly, Akhilesh had in the recent past opposed Amar Singh's entry into the SP fold – the move was backed by Mulayam and his brother Shivpal.
Akhilesh also termed his differences with uncle Shivpal Yadav, which have placed him in direct confrontation with his father, as a dispute in the government and not a family feud.
There are two reasons why this feud has assumed significance this time around. First, it is a time when the party is gearing up for the state elections scheduled next year. The other is the confrontational proportions this feud has now acquired. Differences within this family are not new but never went off the roof as this time around. 
It is perhaps for this reason that the 'outsider' theory articulated by the young chief minister needs to be viewed with perhaps a wider eye.
An inside account of what transpired in the last 72 hours puts this 'outsider' theory in better perspective. 
On Monday, September 12, Mulayam Singh Yadav was reportedly paid a visit by Chairman of the Medical Council of India Ketan Desai. His visit was with a purpose – to warn him of the Allahabad High Court's order to conduct a CBI probe into illegal mining in UP. 
Reports have it that Desai advised the SP supremo to shunt out the minister of the concerned portfolio, failing which the inquiry could potentially harm the reputation of the state government. The minister in question here is Gayatri Prasad Prajapati, a minister who is considered close to the SP chief.
It so happened that UP chief secretary Deepak Singhal was also present at the meeting where, subsequently, Yadav decided to sack the Mining minister and also articulated his stand on the matter.
Later, Shivpal Yadav also arrived at Mulayam's Ashoka Road house, and complained about Panchayti Raj minister Rajkishore Singh alleging his involvement in corruption as well.
Eventually, Mulayam spoke to Akhilesh and asked him to sack both Rajkishore and Prajapati. Yadav, who was already displeased with Prajapati for his alleged involvement in promoting illegal mining, while allegations of land grabbing and corruption had also been levelled against Singh.
Both ministers were immediately relieved of their respective portfolios and the recommendation in the regard sent to the Governor.
Unable to fathom his sudden removal, Prajapati was told by party insiders that it could be Singhal's idea. His presence alongside Mulayam at the time of Ketan's visit stoked the fire further. Prajapati later met Mulayam and levelled allegations on the senior bureaucrat, claiming that it was on Singhal's directions that officers gave affidavits about illegal mining in UP.
Mulayam once again spoke to Akhilesh and directed him to remove Singhal from the Chief Secretary's post. 
It is learnt that after hearing news of his removal, Singhal, who was on his way for a meeting in Noida, rushed to meet the SP chief and also asked Amar Singh (Singhal has been a loyalist of Amar Singh) to join him. Both Singh and Singhal persuaded Yadav to reinstate him. Amar Singh also advised the SP chief that sacking the Chief Secretary would be wrong.
Mulayam relented and called his son, again, and now asked him to overturn the bureaucrat's removal. It was here that Akhilesh lost his cool and told his father that he will he cannot revoke the order he had issued the same day. 
Akhilesh's decision is believed to have irked Amar Singh and Mulayam as well. While it is still not clear what transpired between the SP chief and Singh after the call, but the developments that followed leave little to imagination.
Mulayam decided to remove Akhilesh from the post of the party's state chief and named Shivpal in his place. In retaliation, Akhilesh stripped Shivpal of four key portfolios, striking a huge blow to his uncle's public image. 
The move by SP chief to replace Akhilesh as party chief, which could possibly have been stoked by the presence of the 'outsider', has now brought the family feud out in the open. 
While there are apprehensions that the entire episode is stage-managed and an attempt to bolster Akhilesh's image ahead of the crucial polls, observers also indicate that this could seriously damage SP's prospects in the 2017 Assembly elections.