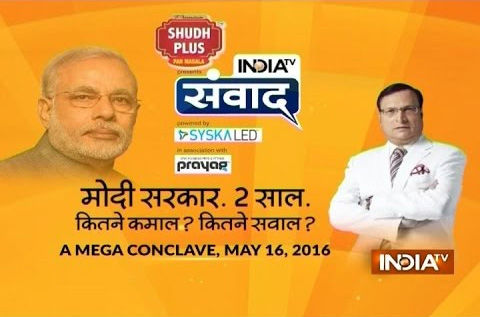 New Delhi: With a critical eye on the performance of the Narendra Modi-led BJP government two years since its formation, India TV Samvaad, IndiaTV's daylong conclave to analyse the government's hits and misses, drew to a close with a healthy exchange of ideas and suggestions to the government.
 
Studded with eminent political personalities from both the ruling and opposition campaigns, media personalities and other newsmakers, India TV Samvaad not only brought forth the ideas and planning of the National Democratic Alliance (NDA) government for the upcoming three years but also analysed the steps and actions taken towards national development in the two years gone by.
The conclave, led by India TV Chairman & Editor-in-Chief Rajat Sharma, kicked off with a discussion with Minister for Road Transport and Highways and Shipping Nitin Gadkari. In dialogue with the audience, Gadkari strongly refuted charges that Malegaon blast accused Sadhvi Pragya was given a clean chit by NIA because of "pressure" from  BJP-led government. "On the contrary, false charges were filed against her and she was put behind the bars for 8 long years." He also asserted that the former Home Minister P Chidambaram had filed a false affidavit in the Ishrat Jehan case to implicate PM Modi and BJP chief Amit Shah.
Union Minister Mr. @nitin_gadkari speaks over 2 years of Modi Govt at mega conclave #IndiaTVSamvaadhttps://t.co/qnBFPZ5RgH

— India TV (@indiatvnews) May 16, 2016
"What did the then UPA Home Minister do? He filed false affidavits in Ishrat Jahan case. He fabricated false evidences in Samjhauta Express case.  Under our regime, police and judicial system are working without any bias. We have not tried to influence the system. Attempts were  made to defame and malign pro-Hindutva organisations. In Ishrat case, false affidavits were filed to malign Narendra Modi and Amit Shah. After change of government, all these things have been exposed. In Sadhvi Pragya's case, action is being taken on the basis of evidences available. One should be happy that justice is being done now." Said Gadkari during the India TV Samvaad.
When asked why PM Modi maintained silence on incidents like Dadri, Gadkari said that it's not necessary for the PM to speak on each and every issue. He made it clear that killing anybody for eating beef was wrong and that's why nobody supported it. On achievements of his ministry, Gadkari pointed out that after the NDA government took over, national highways are being constructed at a very high pace compared to what it was during UPA regime.
Second put to test at the daylong conclave was Minister of Human Resource and Development Smriti Irani who announced that the Modi government will bring a new education policy before the public by May 26.
Raising issue over PM Modi's degree was extremely unfortunate. Watch @smritiirani at #IndiaTVSamvaadhttps://t.co/HUlmr18nNk

— India TV (@indiatvnews) May 16, 2016
"New education policy will be announced before 26th May," said Smriti Irani at India TV Samvaad.
On the death of Dalit student Rohith Vemula in Hyderabad, she said, "whatever I have spoken in public domain I substantiated them in Parliament with facts and it was the reason that privilege motion against me was not taken up." The Minister also took a swipe at Congress vice president Rahul Gandhi, saying that the series of letters between the university and lawmakers he was referring to also had the name of his own partymen.
Answering a question over PM Narendra Modi's degree row, the minister said that if you approach a university as a third party it is the "responsibility of the varsity to protect the privacy of the candidate." The minister further said that even though the allegations of saffronization of education keeps coming up, the national curriculum frame which was devised in 2005 has not been changed.
Finance Minister Arun Jaitley, who also participated in the India TV 'SAMVAAD' conclave, organised to assess the work of 2-yr-old Narendra Modi government, warned that those who have not utilized the 'compliance window' to declare their black money will face sleepless nights.
We will not compromise anything on corruption, says @arunjaitley at #IndiaTVSamvaadhttps://t.co/TzwjSsAzVG

— India TV (@indiatvnews) May 16, 2016
Jaitley also said that his government will not compromise with Congress on the issue of corruption in order to get GST Bill passed in the Rajya Sabha where the NDA lacks majority.
Confident of GST Bill passage in monsoon session: @arunjaitley https://t.co/58qRBTXTos #IndiaTV

— India TV (@indiatvnews) May 16, 2016
"We will combat corruption and we will also get the bills passed in the Parliament in the next session. Except for GST, we have passed all important bills this time in Rajya Sabha despite fact that we don't have majority in the House. We have passed 90 laws in last two years and  in the recently concluded session, we passed 24 bills," he said.
Speaking at the daylong conclave, BJP president Amit Shah slammed media for 'irresponsibly' handling the row over Prime Minister Narendra Modi's educational degrees.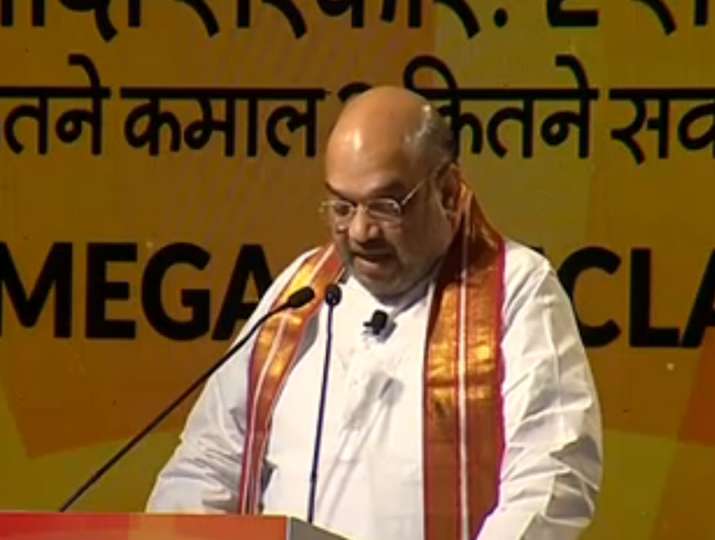 Amit Shah at India TV Samvaad
"Media should have understood that if such questions are  being  raised on the degree of Prime Minister… where are you taking the level of politics. If I would have not displayed the degree, the truth would never have come out. Media should have taken a responsible stand. It should not have given such space to this matter," he said.
Responding to the allegations that government is targeting Congress president Sonia Gandhi in AgustaWestland scam, Shah said, " There was a government for 10 years, which was involved in scams worth Rs 12 lakh crore (2G, AgustaWestland, Adarsh, CWG, Submarine, Coal). If I am not wrong, all scams were unearthed during their regime only, all cases were filed during their tenure only, we are only charging them."
#IndiaTVSamvaad: In last 10 years, UPA govt has indulged only in corrupt practises: @AmitShahhttps://t.co/ZKDpknlas8

— India TV (@indiatvnews) May 16, 2016
On Dadri lynching incident, the BJP chief said, "Media made the Dadri incident sensitive. Modiji has spoken on this. I want to ask you one thing, why the issue of attacks on Church are raised during elections only, why intolerance debate is raked up during polls only?"
Yoga guru Baba Ramdev also participated in the Mega Conclave 'Samvaad' organised by India TV. Praising the government for what he called noteworthy progress in the last two years, Ramdev said, Prime Minister Narendra Modi appears to be focussing more on long term goals rather than short-term ones.
Speed up efforts to bring back offshore black money: @yogrishiramdev tells govt at #IndiaTVSamvaad https://t.co/iRMkK82L4T #IndiaTV

— India TV (@indiatvnews) May 16, 2016
However, he also said, work on some of the big ticket schemes of Modi government needs to be accelerated.  "Progress on projects like  Make in India and Digital India should be put on fast track.  
Ramdev also lauded PM Modi's effort to persuade people to give up "LPG subsidy.
" After Lal Bahadur Shastri who once successfully appealed to people to give up eating food at least once every day due to food scarcity, it is for the first time that over 1 crore people gave up LPG subsidy after PM's appeal, it's a big achievement," Ramdev said.
 
" If a person , irrespective of religion and caste, can afford, he or she should give up government subsidy on LPG cylinders," he added.
He also called on the Centre to speed up efforts to bring back black -money stashed in offshore accounts.
"When people ask me where is the black money, I tell them I agree black money has not been brought back. There is much frustration among the people over black money", the yoga guru said.
In another session, participating in a debate titled – 'Do Muslims feel safe in India' during the India TV 'SAMVAAD' conclave, Bharatiya Janata Party (BJP) leader Subramanian Swamy said that Muslims in India are more safe than any other country.
He today stated that work on building Ram Temple in Ayodhya will begin by the end of this year and Article 370 granting special status to Jammu and Kashmir will be revoked by end of next year. 
Watch @Swamy39 , #AsaduddinOwaisi face off at #IndiaTVSamvaad Now

Live : https://t.co/tHYItpPbtN

— India TV (@indiatvnews) May 16, 2016
To this, AIMIM leader Asaduddin Owaisi, who was also part of the panel, said, if the Supreme Court orders in favour of a mosque, then a mosque will be built at the disputed spot in Ayodhya.
On Kashmir, Owaisi questioned Swamy over what the BJP-led government did in the last two years for the return of Kashmiri Pandits to the Valley.
On this Swamy said, "As far as return of Kashmiri pandits to the Valley are concerned, they should be first assured that they will be safe in their homes. I urge you (Owaisi) to declare that you will advocate for revocation of Article 370. If you do that, I will relocate all Kashmiri pandits tomorrow."
Moreover, Piyush Goyal , MoS with Independent Charge for Power, Coal and New & Renewable Energy, also present in the 'SAMVAAD' reiterated that his government has made the coal auction process transparent and that it has changed the era of coal deficit to coal surplus.
"There was a time when coal crisis was making the headlines. Soon after coming to power, we converted this challenge into an opportunity. We developed a transparent system and made the foundation so strong that I can claim for the next 100 years, no politicians or officers can give the natural resources (blocks) to their relatives. The situation has changed completely today, we don't have shortage of coal now," he said. 
 
"We never said that people will have to wait for 5 years for electricity. All standard plants are in operation today. We commissioned 4500 megawatt plants in last 2 years. We are coal surplus today," he added.
"At present, not a single power plant in the country is facing shortage of coal," Goel added.
 
Goyal further said, "when BJP-led NDA formed the government, it had 2 options, one was quick-fix and second was long-term which will take nearly 3-4 years to deliver'. Modiji said that we should develop a strong foundation so that the outcome can be visible for a long time."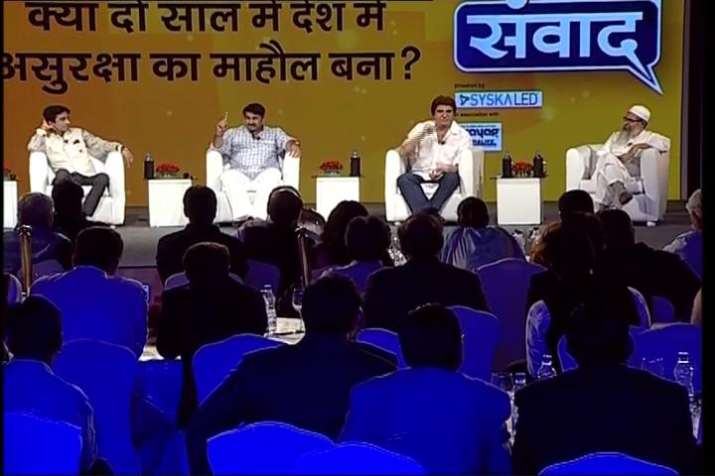 AAP and Congress leaders at India TV Samvaad
In addition, influential political personalities from the Opposition campaign like Congress leader Raj Babbar, AAP leader Kumar Vishwas, Jamiat Ulama-i-Hind General Secretary Maulana Mahmood Madani and President of the All India Majlis-e-Ittehadul Muslimeen Asaduddin Owaisi also participated in the daylong India TV 'SAMVAAD' conclave.