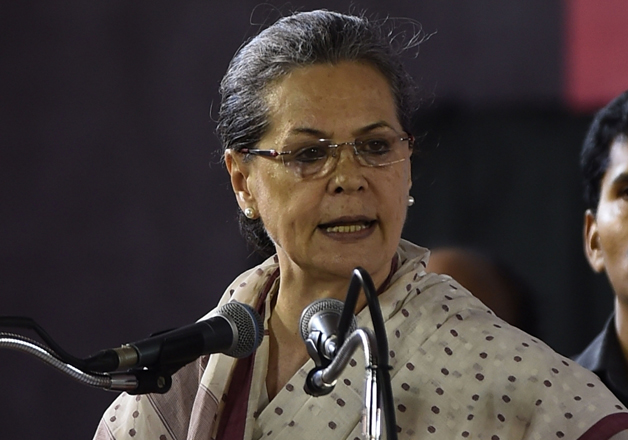 New Delhi: Congress president Sonia Gandhi today said that the recent events in Kashmir are "tragic" and pose a grave challenge to the country.
Lashing out at the government over the recent turn of events in the Valley, the Congress president also asked the Centre not to obliterate the distinction between the civilians and the terrorists and separatists.
"Militants must be dealt with firmly yet we must introspect and ask ourselves what has driven scores of young people to such levels of anger and protest, even violence. Can we say in all honesty that we have responded with sincerity to their pleas? They are our people, we cannot forsake them," she said while addressing the Congress Parliamentary Party meet here.
Normal life in Kashmir has been paralysed for the last 13 days due to violent protests and a shutdown called by separatists against the killing of Hizbul militant Burhan Wani.
Speaking on the violent protests across Gujarat by the Dalit community against the assault on fellow community members for allegedly killing a cow, Sonia said that the "government was trying to snatch away rights of adivasis and dalits".
"The Modi government has snatched away rights of adivasi, dalits and traditional forest dwellers under forest right act 2006 and systematically weakening and subverting environmental rights. Brutal atrocities against SC, ST and minorities are continuing with impunity and shaming us all. The recent shocking incident in Gujarat where four Dalit youths were savagely beaten and humiliated publicly is just one example of the social terror this government condones," she said.
Gujarat has been witnessing widespread protests following the incident at Una town in Gir-Somnath district where seven Dalit youths were beaten up for allegedly killing a cow. The victims' contention was that they were skinning a dead cow and had not killed it.
Meanwhile, the police on Tuesday arrested seven people in connection with the assault, taking the total number of arrests to 16.