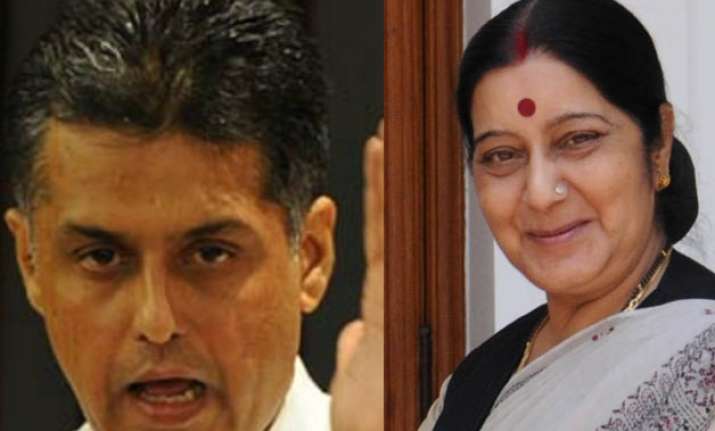 New Delhi: After unconfirmed media reports of Indian catholic priest Father Thomas Uzhunnali surfaced , Congress leader Manish Tewari took to twitter alleging BJP government of leaving the priest to die because he was a Christian.
The former union minister tweeted,"So ISIS allegedly crucified Father Thomas Uzhunnali &BJP Govt did nothing. Why because he was a Christian?Mr PM he was also a fellow Indian."
Sushma Swaraj, who has been active on twitter in reaching out to Indians abroad in need of help, tweeted: "Friends - I have liked some tweets. Please see them and judge for yourself. Then reply to @ManishTewari."
A Catholic priest on Tuesday said there is no confirmation yet about the "crucifixion" of the Indian priest, Father Thomas Uzhunnallil.
Swaraj liked some of her earlier tweets that showed how external affairs ministry has come to the rescue of Indian irrespective of their religions.
She further asked Twitteratis to judge theselves and then respond to Tewari's offensive Tweet. which resulted in Tewari attracting  a lot of flak.
One twitterati asked: "What has the BJP got to do with this? And if your memory still works, remember how you people let Sarabjeet (Singh) die in Pakistan."
Another reasoned: "That's ok..He's clutching at straws ....Very few straws left...Even he knows it's a ridiculous thing to say."
Another twitterati remarked sarcastically: "Please tell the entire nation what the Congress would have done to save the Father? So that India & also the world can follow your strategy."
Social media and media houses have disseminated news on the alleged crucifixion of Uzhunnallil by IS terrorists on Good Friday, 25 March, after they abducted him from a home for the elderly in Aden, Yemen.
The Indian priest was kidnapped on March 4 after IS terrorists barged into the care home for the elderly set up by Mother Teresa in Aden in 1992, and shot dead many people, including four nuns of the Missionaries of Charity, one of them from India.
The external affairs ministry has said there is no confirmation of the news of the alleged crucifixion.