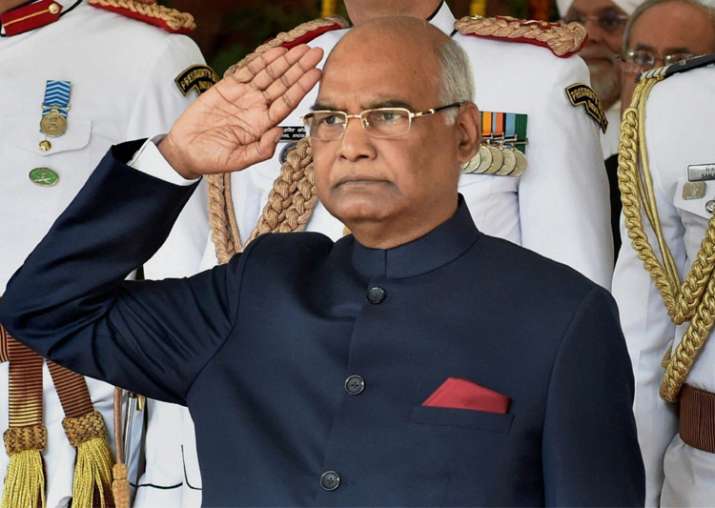 Ram Nath Kovind was today sworn in as the 14th President of India, the first BJP leader and the second Dalit in the Rashtrapati Bhavan. He was administered the oath of office to 'preserve, protect and defend the constitution and law' by Chief Justice of India JS Kehar in an impressive ceremony in the Central Hall of Parliament. After he took oath, Kovind was given a 21-gun salute to mark the assumption of office of the highest constitutional post in the country. 
The 71-year-old took oath in Hindi to thunderous applause and thumping of desks by the gathering, including Vice President Hamid Ansari, Lok Sabha Speaker Sumitra Mahajan, Prime Minister Narendra Modi, outgoing President Pranab Mukherjee and former president Pratibha Patil. Former prime ministers Manmohan Singh and HD Devegowda, UPA chairperson Sonia Gandhi, former Lok Sabha speaker Meira Kumar, former deputy prime minister L K Advani as well as Union ministers and foreign dignitaries were also present on the occasion. 
Here's who said what: 
Pranab Mukherjee, 13th President of India: My heartiest congratulations to Shri Ram Nath Kovind, Hon'ble President of India. Wishing you success and happiness in the years to come.
Narendra Modi, Prime Minister of India: Very inspiring address by President Kovind, which beautifully summed up the essence of India's strengths, democracy & diversity. Congratulations to Shri Ram Nath Kovind ji on taking oath as the President of India.
श्री राम नाथ कोविंद जी को भारत के राष्ट्रपति निर्वाचित होने पर हार्दिक बधाई एवं शुभकामनाएं.https://t.co/RMSYNJXq5u

— Nitish Kumar (@NitishKumar) July 20, 2017
भारत के 14वें राष्ट्रपति का पद संभालने पर माननीय श्री रामनाथ कोविंद जी को बधाई एवं सफल कार्यकाल के लिए शुभकामनाएं| #PresidentKovind pic.twitter.com/VtzMganyN8

— Yogi Adityanath (@myogiadityanath) July 25, 2017
Piyush Goyal, Union Minister: Today, the people welcome Shri Ram Nath Kovind as the President of India. His humble beginnings & wisdom will guide us towards a New India.
INC India: Congratulations to Shri Ram Nath Kovind on becoming the 14th President of India.
ShivrajSingh Chouhan, Madhya Pradesh CM: Congratulations Shri Ram Nath Kovind Ji on assuming the office of President of India. Best wishes for a successful tenure. Your journey is a source of inspiration for countrymen. Your experience, acumen & wisdom will take India to new heights.
Manohar Parrikar, Goa CM: Congratulation to Ram Nath Kovind ji on being sworn in as the 14th President of India.
Devendra Fadnavis, Maharashtra CM: Congratulations to Honourable Ram Nath Kovind ji on taking oath as the 14th President of India! Honoured to witness oath ceremony.
Vijay Rupani, Gujarat CM: Many congratulations to Shri Ramnath Kovind ji on taking over the highest office of the country. Wish you all the best. Thank you Pranab Da for embellishing the highest constitutional office with grace and dignity. You have enriched democratic institutions. Pranab Da's contribution in upholding plurality of our society and diversity of our culture through public discourse is unparalleled.
मुझे विश्वास है कि महामहिम राष्ट्रपति के रूप में श्री रामनाथ कोविंद जी का कार्यकाल देश को और अधिक गौरव प्रधान करेगा |

— Amit Shah (@AmitShah) July 25, 2017
देश के 14वें राष्ट्रपति के रूप में शपथ लेने पर श्री रामनाथ कोविंद जी को हार्दिक बधाई। उनके सफल कार्यकाल के लिए मेरी ओर से शुभकामनाएं। pic.twitter.com/Jmhro4FWJN

— Manohar Lal (@mlkhattar) July 25, 2017
N Chandrababu Naidu, Andhra Pradesh CM: Congratulations to Sri Ram Nath Kovind Garu on taking oath as the President. His tenure as guardian of our democracy will be inspirational.
Dr Raman Singh, Chhattisgarh CM: Chhattisgarh wishes President Kovind ji a very successful tenure! India is sure to prosper multifold under his leadership.
श्री कोविंद जी का उत्तरप्रदेश के एक गाँव से भारतीय गणतंत्र के १४वें राष्ट्रपति बनने की सफल यात्रा हमारे लोकतंत्र की मज़बूती का परिचायक है

— त्रिवेंद्र सिंह रावत (@tsrawatbjp) July 25, 2017