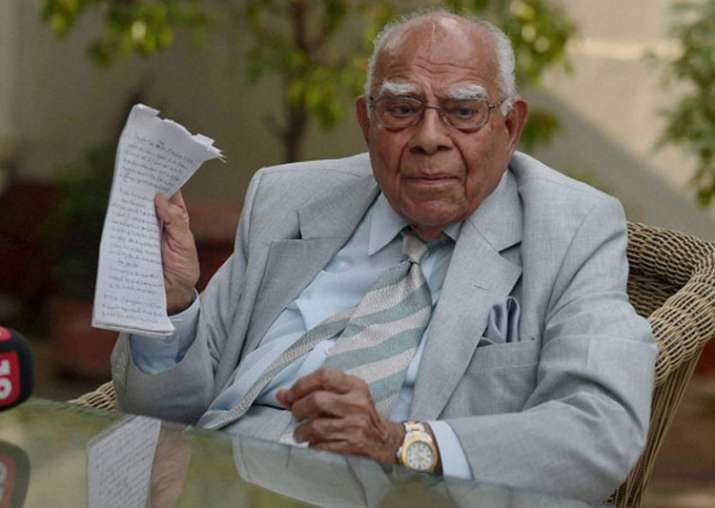 Senior lawyer Ram Jethmalani has quit as the counsel of Delhi Chief Minister Arvind Kejriwal in a defamation case filed against him by Union minister Arun Jaitley. According to media reports, Jethmalani has asked the Aam Aadmi Party (AAP) leader to settle his legal fee which is more than Rs 2 crore.
"I have quit the case of Arvind Kejriwal. He should release letter which I sent to him. Reason being he lied that he did not give me instructions, fact is he did," Jethmalani said.
The development comes in the backdrop of reports that Kejriwal had on Monday told the Delhi High Court that he never asked his counsel to use objectionable words against the Union minister during the hearing of the case in May.
"With due respect it is submitted that neither Kejriwal nor the counsel briefing the senior counsel Jethmalani gave instructions to the senior counsel to use the objectionable words on May 17, 2017," Kejriwal informed Justice Manmohan through an affidavit.
Kejriwal even wrote a letter to Jethmalani to refute his claim that objectionable words were used in the proceedings before the Joint Registrar on May 17 as per his instructions, it said.
Jethmalani had used the word 'crook' against the Finance Minister during his cross-examination before a Joint Registrar saying that he used the word on the instructions of Kejriwal. The cross-examination was being done in the course of the proceedings in the Rs 10 crore defamation suit that Jaitley had filed against Kejriwal and five other AAP leaders in 2015.
Kejriwal's affidavit on Monday was filed on Jaitley's application to expedite the recording of evidence in an orderly and fair manner in the defamation case.
In December 2015, Jaitley had filed a civil defamation suit against Kejriwal and AAP leaders Kumar Vishwas, Ashutosh, Sanjay Singh, Raghav Chadha and Deepak Bajpayee, claiming that they made "false and defamatory" statements in the case involving the DDCA, thereby harming his reputation.
A fresh Rs 10 crore defamation suit was also filed by Jaitley against Kejriwal over his lawyer Jethmalani using the word 'crook' during cross-examination of the previous defamation suit. Jaitley, in the second civil defamation suit against Kejriwal, claimed the objectionable words caused him 'permanent harm and disrepute'.