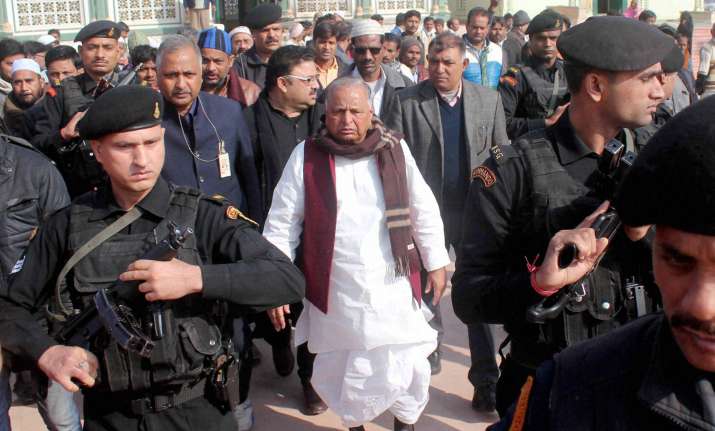 Samajwadi Party founder Mulayam Singh Yadav today accused son Akhilesh Yadav's close aide and Rajya Sabha MP Ram Gopal Yadav of causing a rift in the party.
Pouring scorn over his estranged cousin, senior Yadav said Ram Gopal wants to create 'Akhil Bharatiya Samajwadi Party' and wants motorcycle as its election symbol.
I know who met the president of another party thrice. He wants to save his son and daughter-in-law. He should have approached me. I would have saved them. 
"I asked them (rival camp) not to dispute. I want unity in the party. I am neither making new party not changing our symbol," he said. 
Apparently referring to son Akhilesh's claim for the party president's post, Mulayam turned emotional and said, "I have given whatever I had. What is left with me? I only have you (workers) all." 
"I founded SP during Emergency days when Akhilesh Yadav was two years old," Mulayam said, flanked by brother Shivpal Yadav. 
"Akhilesh Yadav is Chief Minister and he will be the next CM also. Why are you (Akhilesh) going to these persons...Don't drag yourself in dispute. We want unity in party at any cost," Mulayam said.
The father-son duo on Tuesday met for almost 90 minutes, but refrained from making any official comment. SP sources said Mulayam insisted that he was still the national president of the party. 
Akhilesh, as per SP sources, was told that he could be made SP state president. 
Akhilesh was adamant that he would stay as the SP national president till the end of the Assembly elections, the sources said. Neither camp is willing to make the first move on withdrawing its petition before the Election Commission for claim on the party name and symbol.