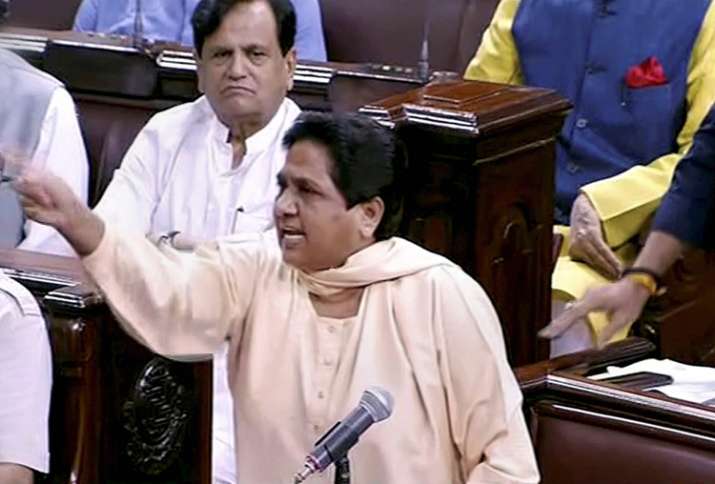 Cutting across the party lines, Rajya Sabha on Wednesday appealed to BSP chief Mayawati in unison to withdraw her resignation. Deputy Chairman P J Kurien, with whom Mayawati had gotten angry when he asked her to conclude her speech after the prescribed three minutes, said that he respects the Dalit leader and he, along with the members of the House, wants the Bahujan Samaj Party supremo to withdraw her resignation. Mayawati had submitted a three-age resignation letter to Rajya Sabha Chairman Hamid Ansari yesterday saying that she had no right to stay a member of the Parliament if she was not allowed to speak on dalit issue. 
Directly speaking to BSP leader Satish Chandra Misra, Kurien said the episode was a result of a "misunderstanding" and that he has "utmost respect" for Maywati. He requested Mishra to convey his message to his party chief. 
"None of us are happy about her resigning. I have utmost respect for her. It was just a misunderstanding. We all have a lot of respect for her and regard her as a senior leader. The House will ask her to reconsider her decision," Kurien said. 
"... It is the decision of the House that she (Mayawati) should take back her resignation," Kurien said. 
He sought to set the record straight about yesterday's developments, saying he had "nothing against anybody". The Deputy Chairman said there was no notice by Mayawati (about raising any issue). He said when he came to the House, he had a list of 8-9 speakers under Rule 267 and Mayawati's name was not there. 
"...I want to set the record straight... When I came, I saw her standing and gave her three minutes (to speak)... I bypassed the Leader of Opposition and allowed her to speak," he said. 
Leader of Opposition Ghulam Nabi Azad joined Kurien and said, "we should request her to reconsider her resignation". The Deputy Chairman then asked Minister of State for Parliamentary Affairs Mukhtar Abbas Naqvi about government's view on this. 
Naqvi indicated that the government had no objection if all the parties wanted so. 
Yesterday, Mayawati had got angry and stormed out of the House after being told to conclude after three minutes her speech on violence in Saharanpur in UP some time back. Mayawati, whose term in the Upper House was till April next year, had said that she would resign as there was no point to be a member when she was not allowed to speak. 
Misra of the BSP said today that the entire Treasury bench had been instructed to stand when Mayawati stood up to speak. 
"They did not allow her to speak. She spoke for 2 minutes and nine seconds in breaks and would have even finished in 3 minutes," Misra said.
(With PTI inputs)