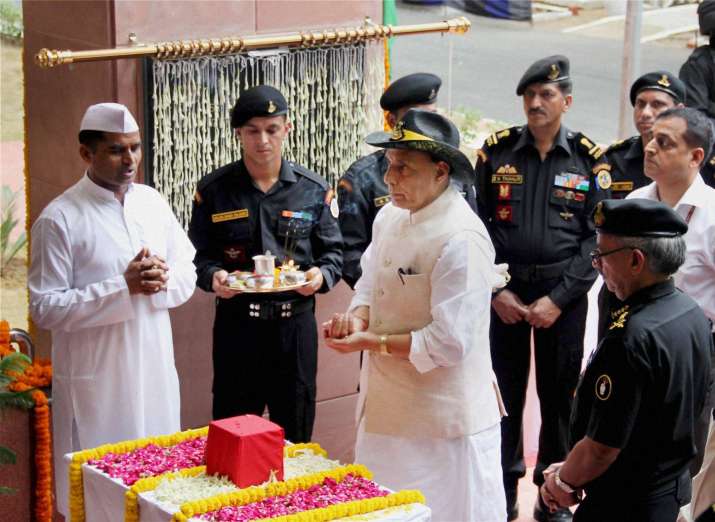 Union home minister Rajnath Singh today arrived in Srinagar for the second time in a month as the centre has stepped up effort to engage with the state leadership and civil society members to put an end to seven weeks of unrest that has left 67 dead and around 10,000 injured in the region. 
The Union Minister arrived at the Srinagar airport with Home Secretary and other officials accompanying him.
Singh's visit comes a day after Army Chief Dalbir Singh visited Kashmir and asked the forces to exercise maximum possible restraint while dealing with mobs and uphold human rights. Curfew was also relaxed in parts Srinagar on Tuesday after 45 days of restrictions.
Singh's two day visit comes close on the heels of  Prime Minister Narendra Modi's meeting with opposition leaders of Kashmir. 
Expressing "deep concern and pain" at the prolonged unrest, PM Modi said,"there has to be a dialogue" for a "permanent and lasting solution" to the problem within the framework of the Constitution of India.
PM asked them to convey his sentiments to the people that those who lost their lives were "part of us, our nation", a remark that was seen as softening of the Centre's approach towards protesters.
The developments followed Prime Minister Narendra Modi's announcement on Monday that 
Home Ministry officials in Delhi refused to divulge details about Rajnath Singh's two-day visit to Kashmir, his second in a month. They said his meetings in Srinagar had not been finalized as yet.
"He will meet people in Srinagar. Political leadership included," a government source told IANS.
The officials said the government was keen on breaking the logjam and end the vicious cycle of violent protests and counter-violence that has so far left at least 68 people dead in over five weeks. The death toll also includes two policemen. Over 5,000 civilians and security personnel have been injured.
Home Secretary Rajiv Mehrishi and other senior officials from the ministry are expected to accompany Rajnath Singh to the valley.
The visit comes as relative calm prevailed in parts of Srinagar on Tuesday, after which the government lifted curfew from the uptown areas of the city from 9 a.m. to 8 p.m. for the first time since July 9 when violent unrest erupted in the valley after killing of Hizbul Mujahideen militant Burhan Wani.
While restrictions remained in the Old City, people going in twos or threes were not stopped. Some vehicles also plied on the roads, residents said.
Shops and business establishments, however, remained closed across the city for the 46th day in a row. Separatist leaders have asked people to continue the shutdown till August 25. Authorities also continued with their restrictions in many parts of the troubled Kashmir Valley where life remained paralysed.
As Srinagar was at a relative peace, violence broke out in north Kashmir Shopian district where security forces opened fire at a stone-pelting mob. "Eleven people were injured," a police officer said in Srinagar, adding three of the injured were evacuated to a Srinagar hospital.
Rajnath Singh's visit follows Jammu and Kashmir opposition leaders' several meetings in Delhi  - led by former Chief Minister Omar Abdullah - including with President Pranab Mukherjee and Prime Minister Narendra Modi. They have been pressing the government for a "political solution" to the ongoing unrest.
PM Modi told the opposition leaders that he was "distressed" with the Kashmir situation and shared "deep concern and pain" over the loss of lives.
The government has also engaged a group of civil society members, mostly prominent non-Kashmiri Muslim personalities, to help bring peace in Kashmir and a delegation is likely to visit the valley soon.
Rajnath Singh has held two meetings in Delhi in the past one week with civil society members including former Rajya Sabha MP Shahid Siddiqui, former Jammu and Kashmir interlocutor M.M. Ansari, defence analyst Qamar Agha, Milli Gazette editor Zafarul Islam Khan and social activist M.J. Khan
Some of the activists who met the Home Minister told IANS that possible solutions to the present Kashmir situation were discussed at length in a "very open environment".
"It was a long and comprehensive discussion and a lot of things were discussed. We have to take forward Atalji's doctrine (of Insaniyat, Jamhooriat and Kashmiriyat). The government needs to restore confidence of Kashmiris and be sensitive to their needs and sentiments," Mr Siddiqui said.